We're still coming off the high that was our trip to Paris for Engage!23 The Paris Experience! What a whirlwind of excitement, fashion, friends new and old, over-the-top entertainment, decor, and fabulous French food. Our creative director, Alejandra Poupel Events and the entire partner team really put their whole hearts into dazzling our attendees and speakers. Stay tuned as we'll be deep diving into some of the most epic parties we've ever thrown. But first, a look back and the three-day event as a whole.
Hosting an Engage! in an iconic city is no small feat! Paris certainly provided a spectacular backdrop (and lots of moving parts too). Our guests were welcomed at two of the top 5-star properties in France, The Dorchester's Hotel Plaza Athenee and Le Meurice. Our group experienced both properties through speaker sessions, lavish lunches, and highly curated gifting.
From Our Creative Director
Creative director Alejandra Poupel, said it best when asked what our guests would get a taste of. "Paris, a muse to countless artists, is a city that celebrates beauty in all its forms. From haute couture fashion to cutting-edge design, you find yourself surrounded by the essence of artistic excellence. Prepare to be captivated by the harmonious blend of old-world sophistication and avant-garde creativity that permeates every street and every corner of this vibrant city. 
But let us not forget the heart and soul of Paris: its gastronomy. In the land of buttery croissants, delicate macarons, and the finest wines, we invite you to indulge in an epicurean feast for the senses. Allow your taste buds to savor the flavors of France, as we present you with a gastronomic journey that will leave you craving more. 
In the words of the iconic Audrey Hepburn, "Paris is always a good idea." And indeed, it is. Let the magic of this city infuse your spirits and ignite your passions." And indeed, the city and entire experience did just that.
Maison Engage!
To kick off Engage!, we began with Maison Engage!, a luxury gifting experience where guests "shopped" for designer goods we gifted them. Paris is home to some of the best shopping in the world. And thus, when in the fashion capital, we had to embrace it all! So, we brought our very own Engage fashion house to life.
Our boutique was stocked with thoughtfully curated gifts designed by TPD Design House to immerse attendees in a luxurious Parisian experience. And that experience was a true expression of the history of the setting. Christian Dior opened his first boutique on Avenue Montaigne and held many of his fashion shows and shoots at Hotel Plaza Athenee, quickly giving Avenue Montaigne its nickname "Fashion Avenue." So of course our group had to walk away with Dior wallets! But that wasn't all. They also received Hermes twillys or bracelets, custom perfume by Bases, book sets by Louis Vuitton, classic French summer berets, custom decorated cookies by So Bang, and totes by both YSL and Longchamp (and more!). To say this gifting lounge was our most jaw-dropping is an understatement!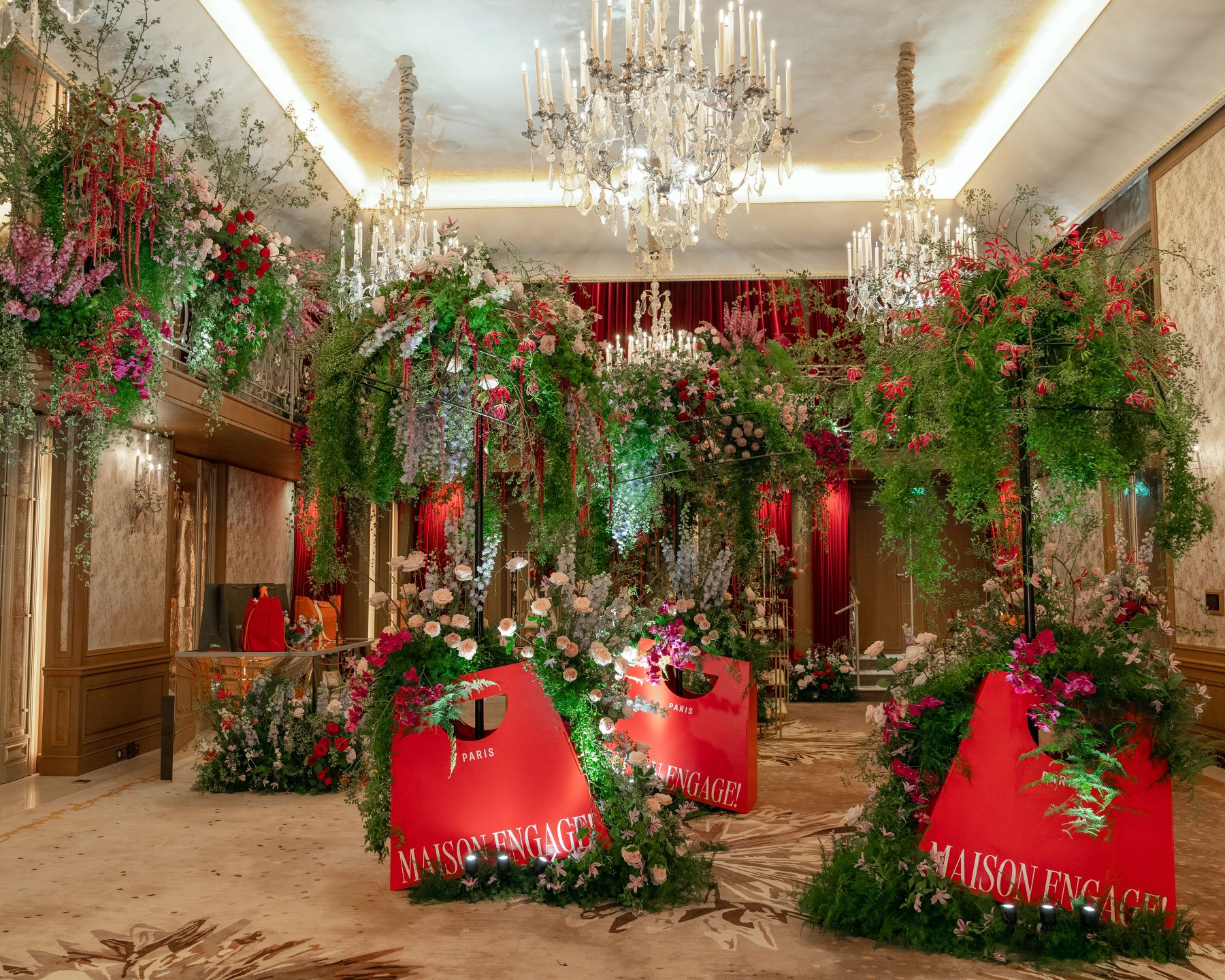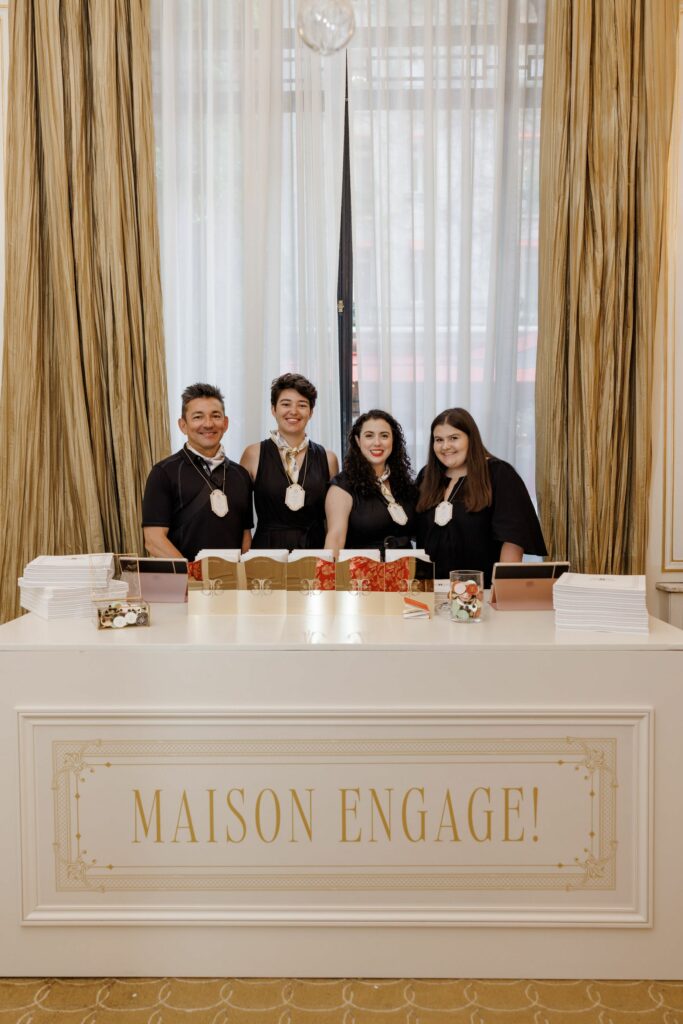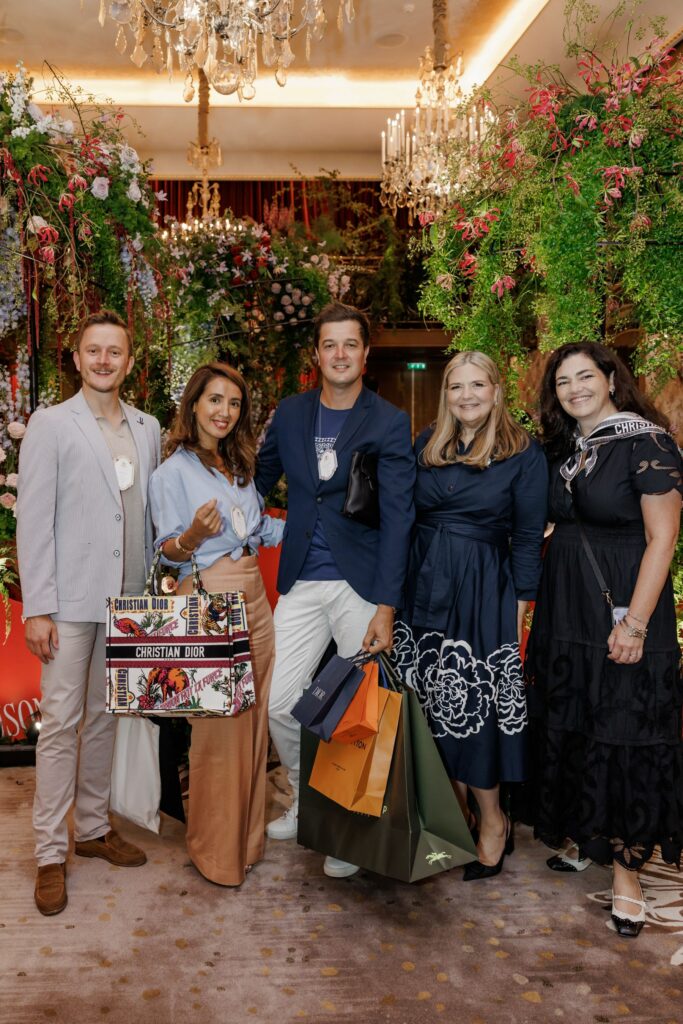 Special thanks to our massively hard-working photography team and Shira Savada for all the flatlay styling perfection!
Paris Event Branding
The shopping experience also welcomed guests into the first of many branding touchpoints from the week. To see the inspiration behind the branding of Engage! Paris, visit our story here. The look was a nod to the city of love while staying true to our E! and all the luxury we wanted our guests to experience this week. From custom walking maps to designer napkins from MyDrap, we took every opportunity to brand every single detail!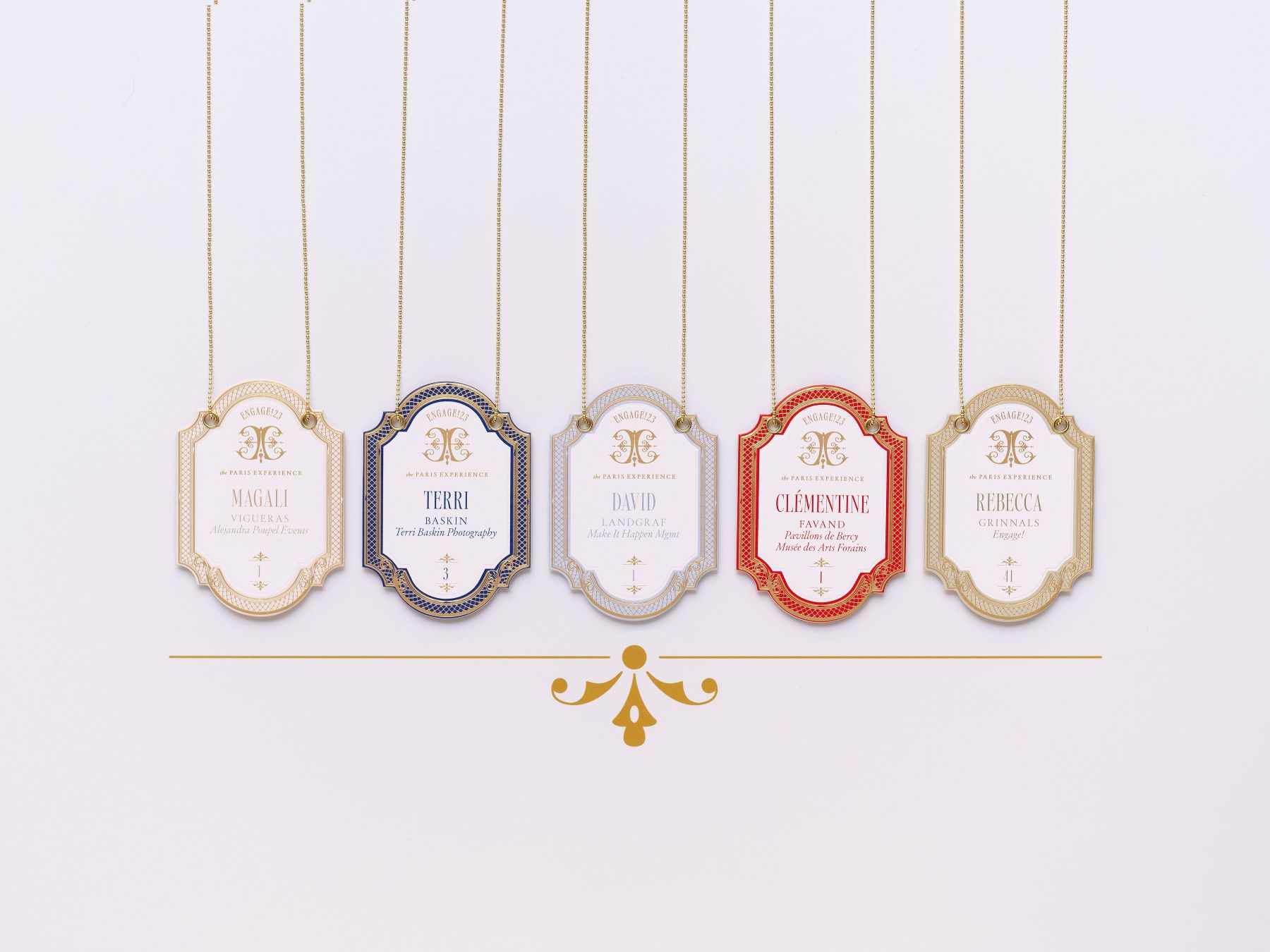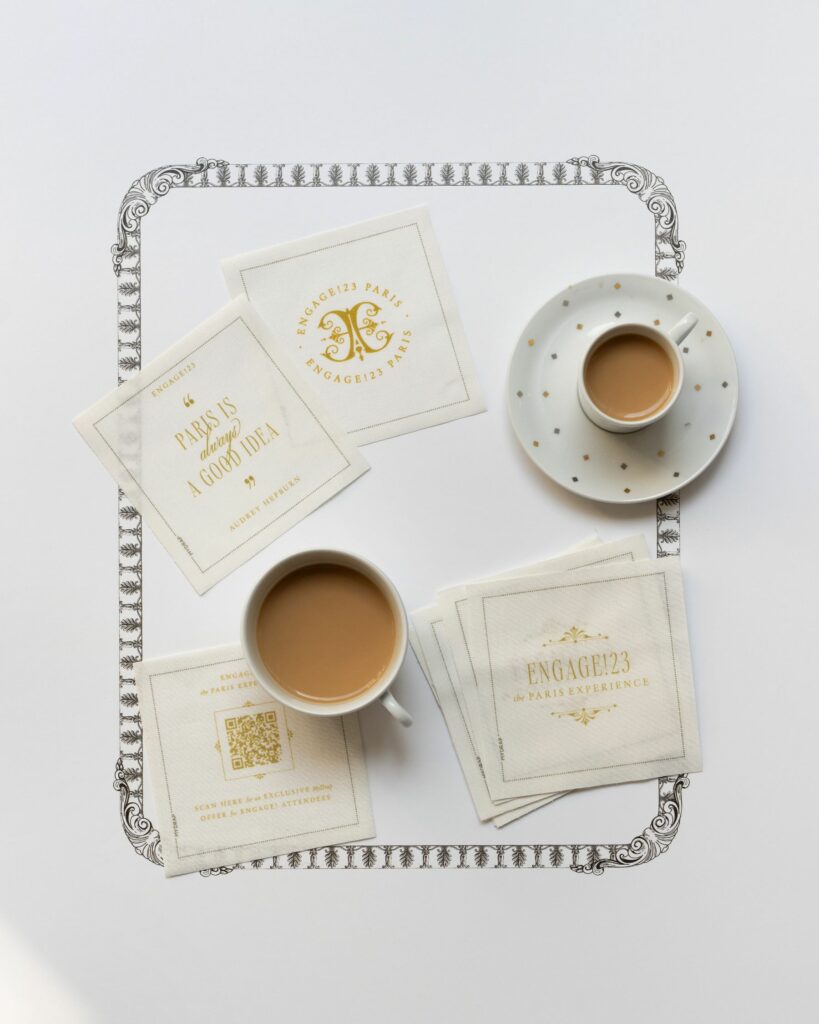 Opening Session
Arms full of gifts to take home and hearts full of excitement for the events to begin, guests moved from Maison Engage! at Hotel Plaza Athenee to opening session at Le Meurice. There, some of our most esteemed speakers shared insights into their businesses, the changing markets, new technology, and old habits that have kept their careers sustained for their tenure. We had the honor of welcoming some industry icons like Marcy Blum and Nicolas Barelier of RONI, Gabriele Rizzi and a few new faces to the wedding and event scene, like the Director of Maison Louis Vuitton Vendôme, Paris, Hadami Magtouf who had a conversation with Carrie Lauren about serving luxury clients.
Set on a backdrop of imagination, the sessions took place in the grand Salon Tuileries and Salon Pompadour. The stage design boasted a golden gilded backdrop with the Engage! icon, adorned by life-size florals envisioned and brought to life by Roni Floral Design.
Since the executive pastry chef of Le Meurice, Cédric Grolet, won the title of the 'World's Best Restaurant Pastry Chef' we couldn't send our guests away hungry. The group enjoyed a few of his delectable pastries too. It was just the right amount of inspiration (and sugar!) before a quick wardrobe change and off to the Seine for dinner, dancing, and surprises on the river.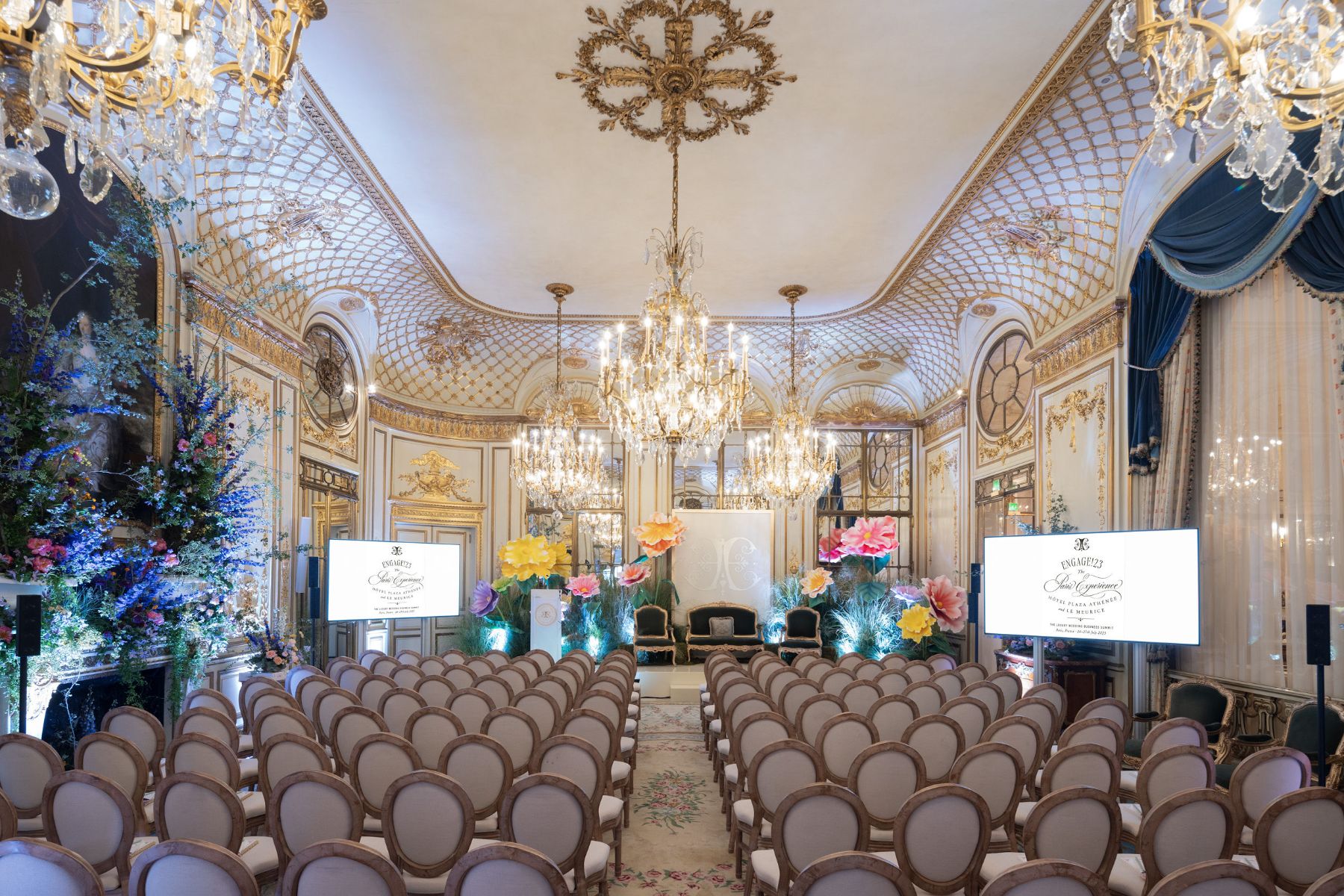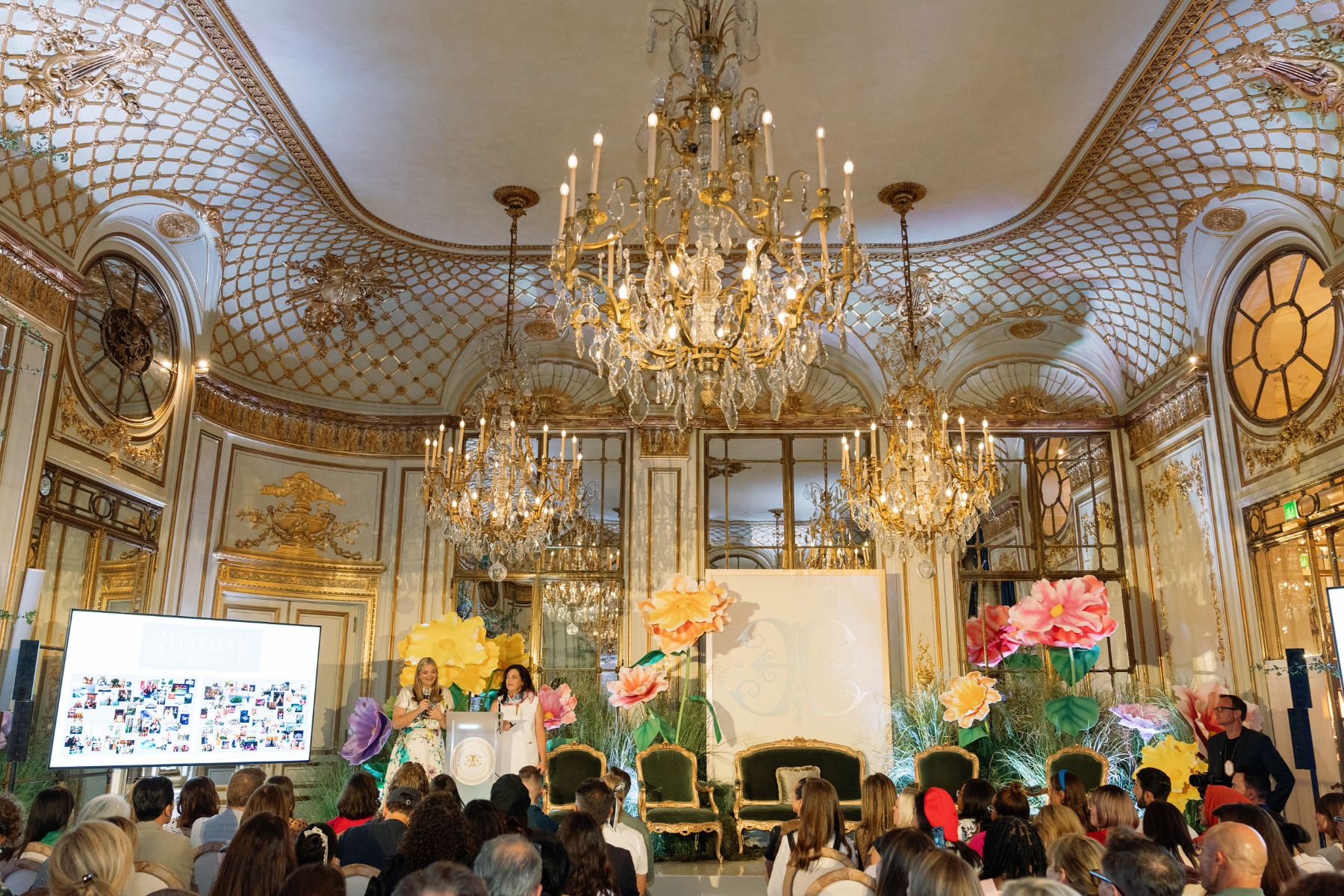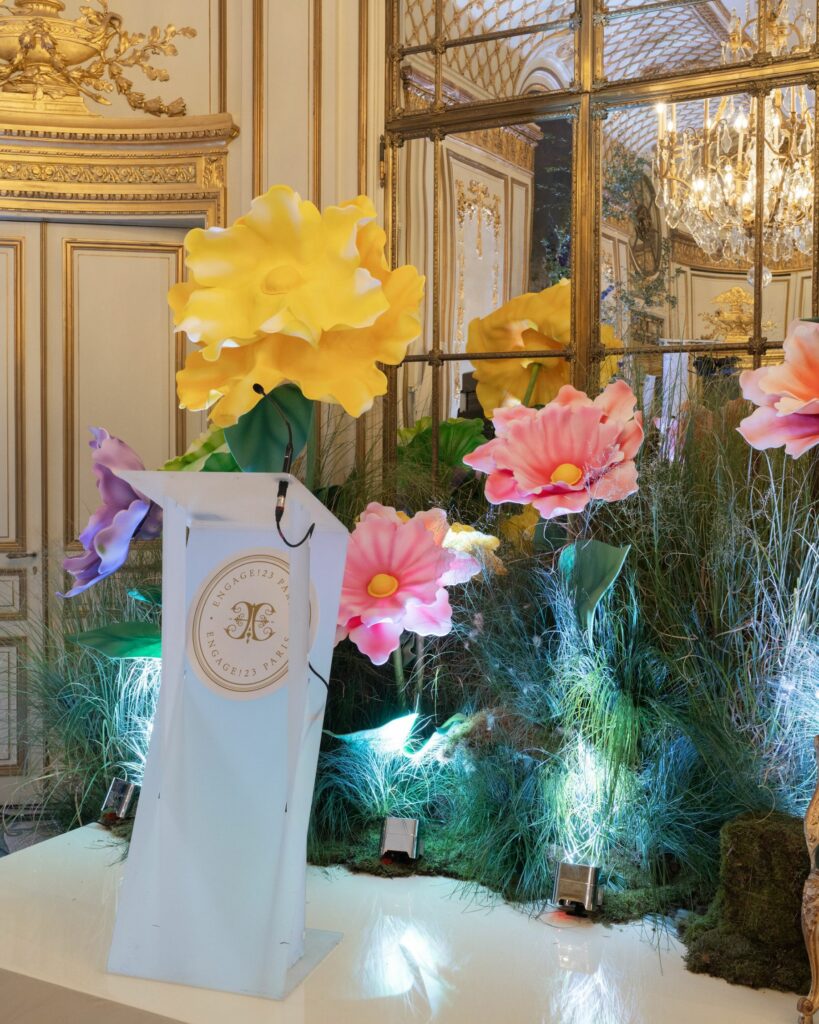 Paris Welcome Party on the Seine
Then we were off to the first of many celebrations. Attendees were taken to the Eiffel Tower where they boarded Le Diamant Bleu for an evening of French art de vivre on the Seine. Below deck, Roni Floral Design drew inspiration from the colors of the country's flag (red, white, and blue). Details included red floral arrangements, feathers, greenery, and more. If you look closely, the bar facade was created of thousands from red buttons with a Delft-style tablecloth from Nuage Design. Another highlight? An ombre display of 25 Bastien Blanc Tailleur cakes from his newest collection. And believe it or not, his cakes taste better than they look (if that's even possible to imagine!).
Inspiration Live Music was on hand to wow our guests as they sailed along the river and under 5 bridges and barges suspended over the Seine (with a little something extra on them that evening). Attendees were surprised by five different live performances on each bridge as we approached with spotlights to illuminate the entertainment (including something Engage-ing too!). Needless to say, the locals loved it as much as our group did!
For those who opted to stay inside, a dance party kicked off. Can-can dancers kicked up a storm to "La Vie en Rose."
As the end of the night approached, the boat docked back below the Eiffel Tower just in time to see it sparkle and glitter in all its evening glory.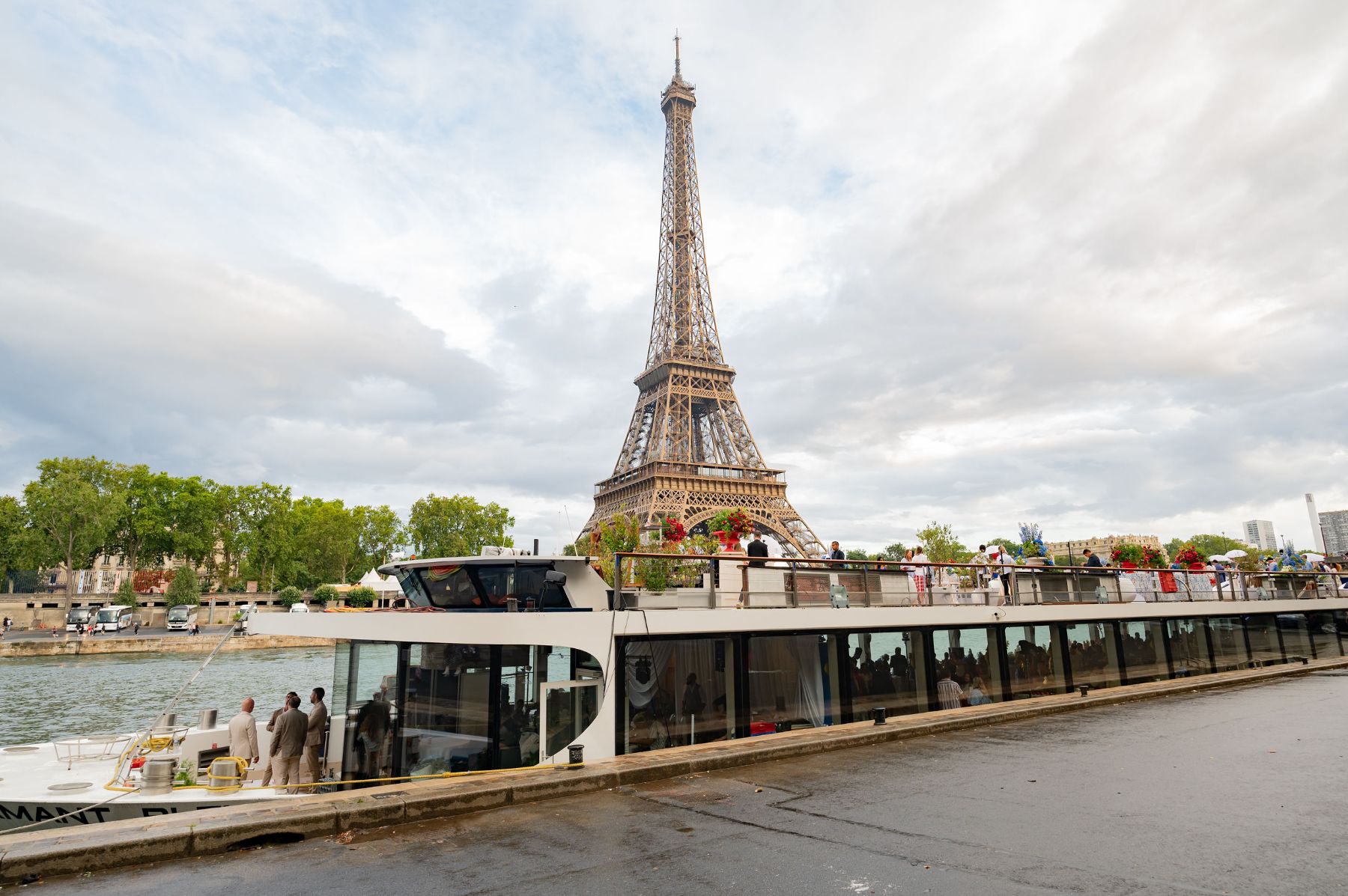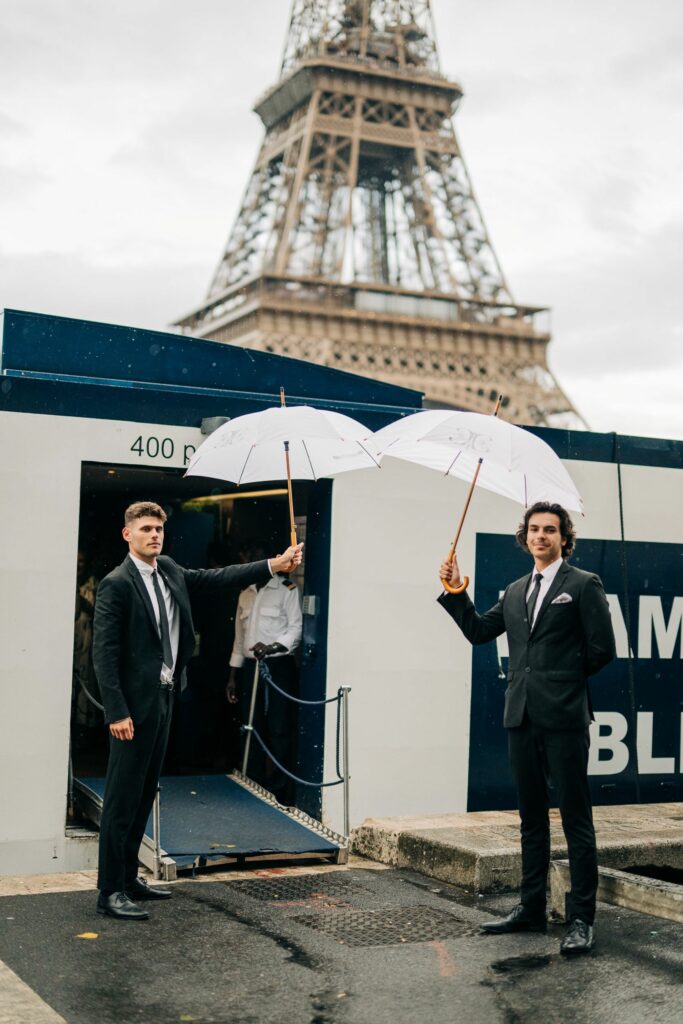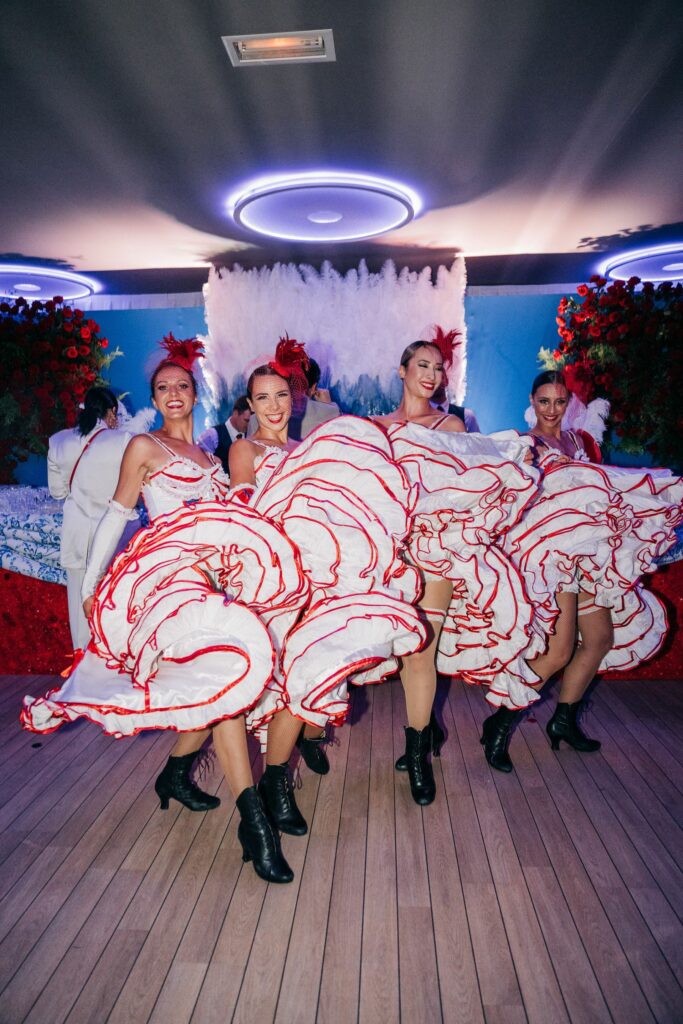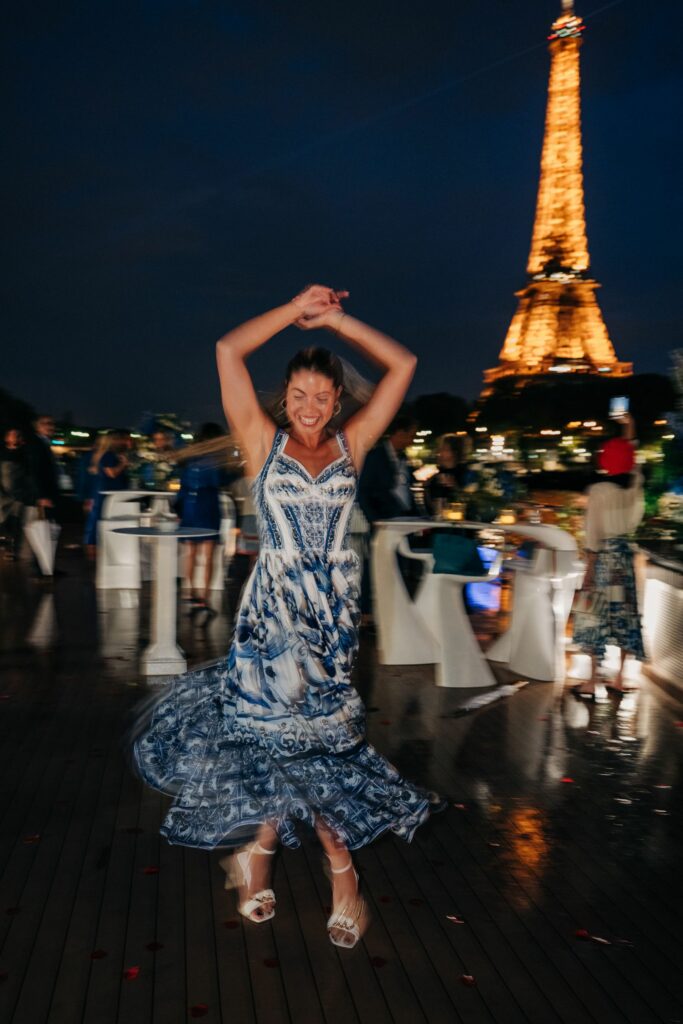 Circus Sessions
The next morning our attendees were up early to soak up more education in the famed Musee des Arts Forains. Speakers included celebrity event planners Sarah Haywood, Lynn Easton, and Mindy Weiss, Elie Saab Jr (CEO of Elie Saab) with Julie Sabatino, designers David Stark and David Beahm, founder of Lebanese Weddings Sima el Solh with Samantha Roberts, wedding and fashion photographer Greg Finck and stylist Carrie Lauren. The stage was a reflection of the setting. It embraced the bold colors, vintage font styles, and carnival art all around us.
Our schedule for the day was its own work of art. A Belle époque hot air balloon inspired by the details and design of the Musee des Arts Forains was created by TPD Design House and displayed the day's agenda.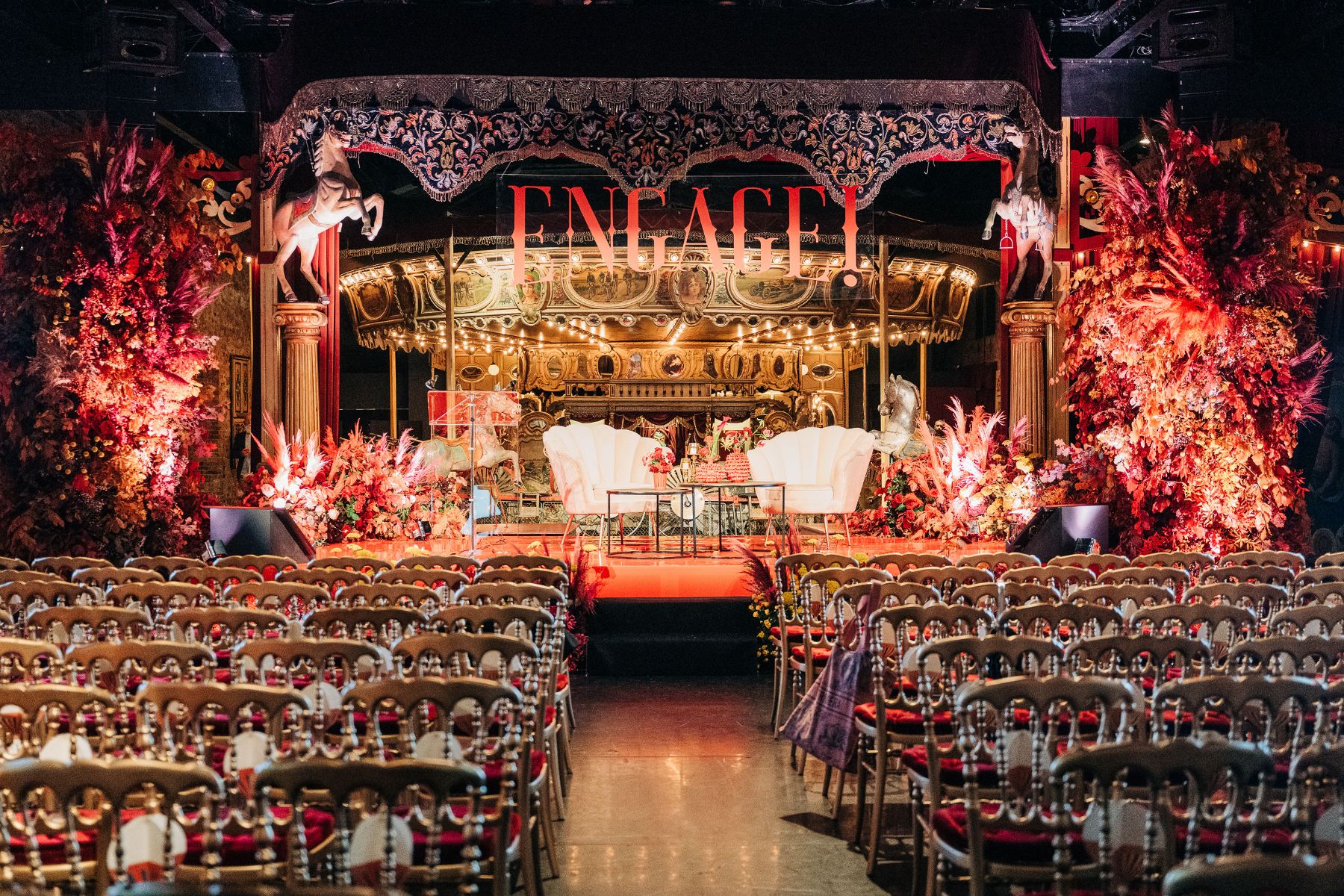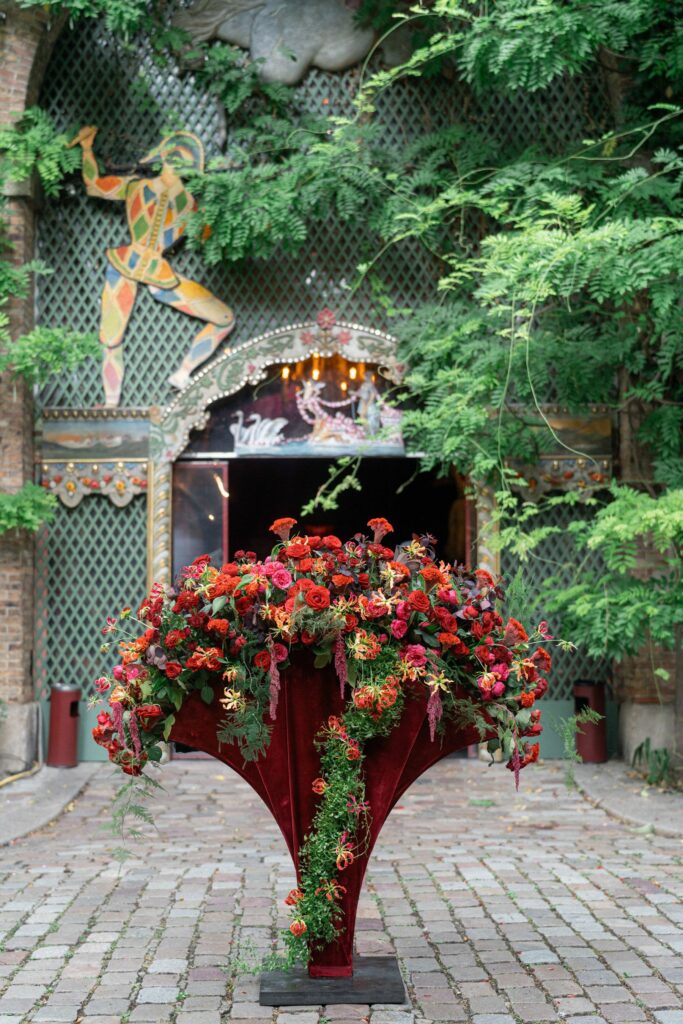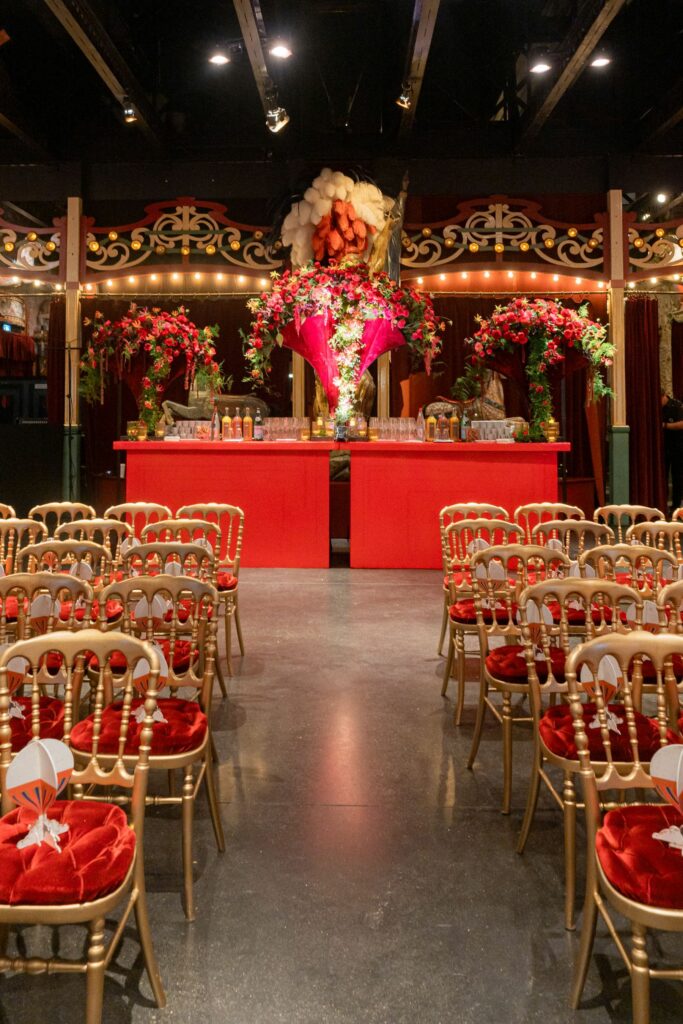 When it was time for lunch, the curtains rose and revealed a room full of surprises and a "carousel" of flavors. The vintage circus-themed lunch included fairground arts, carnival games, carousel rides, and fantasy plucked from our childhoods. Lunch was informal to allow the group to play, win, and race on the rides.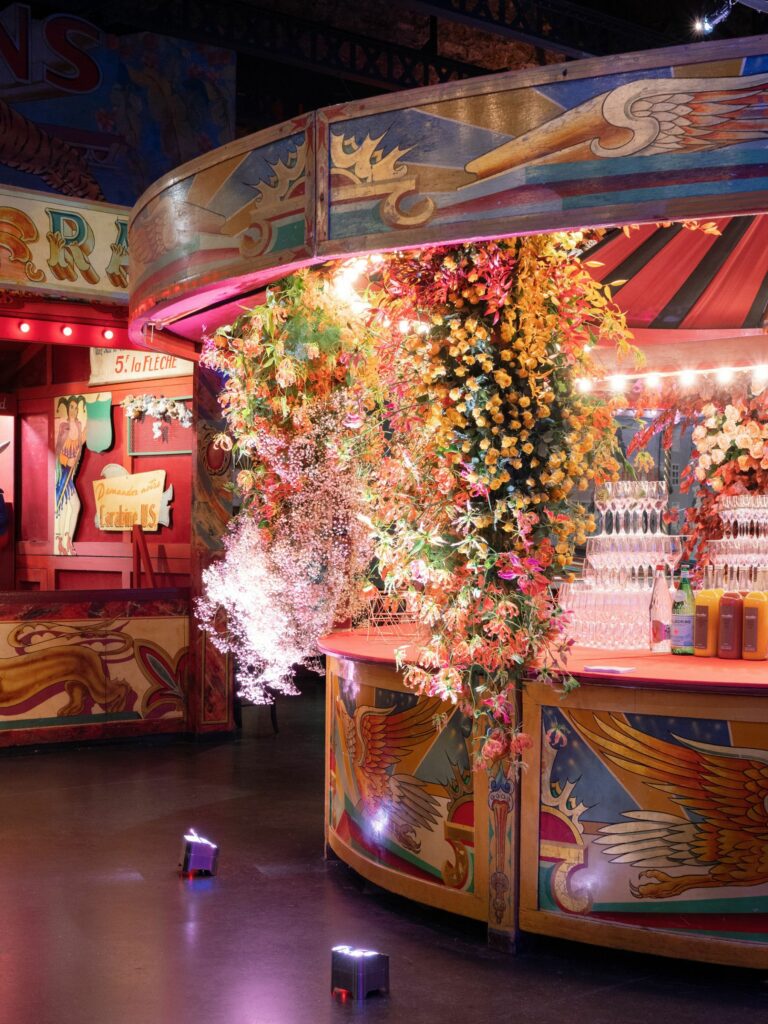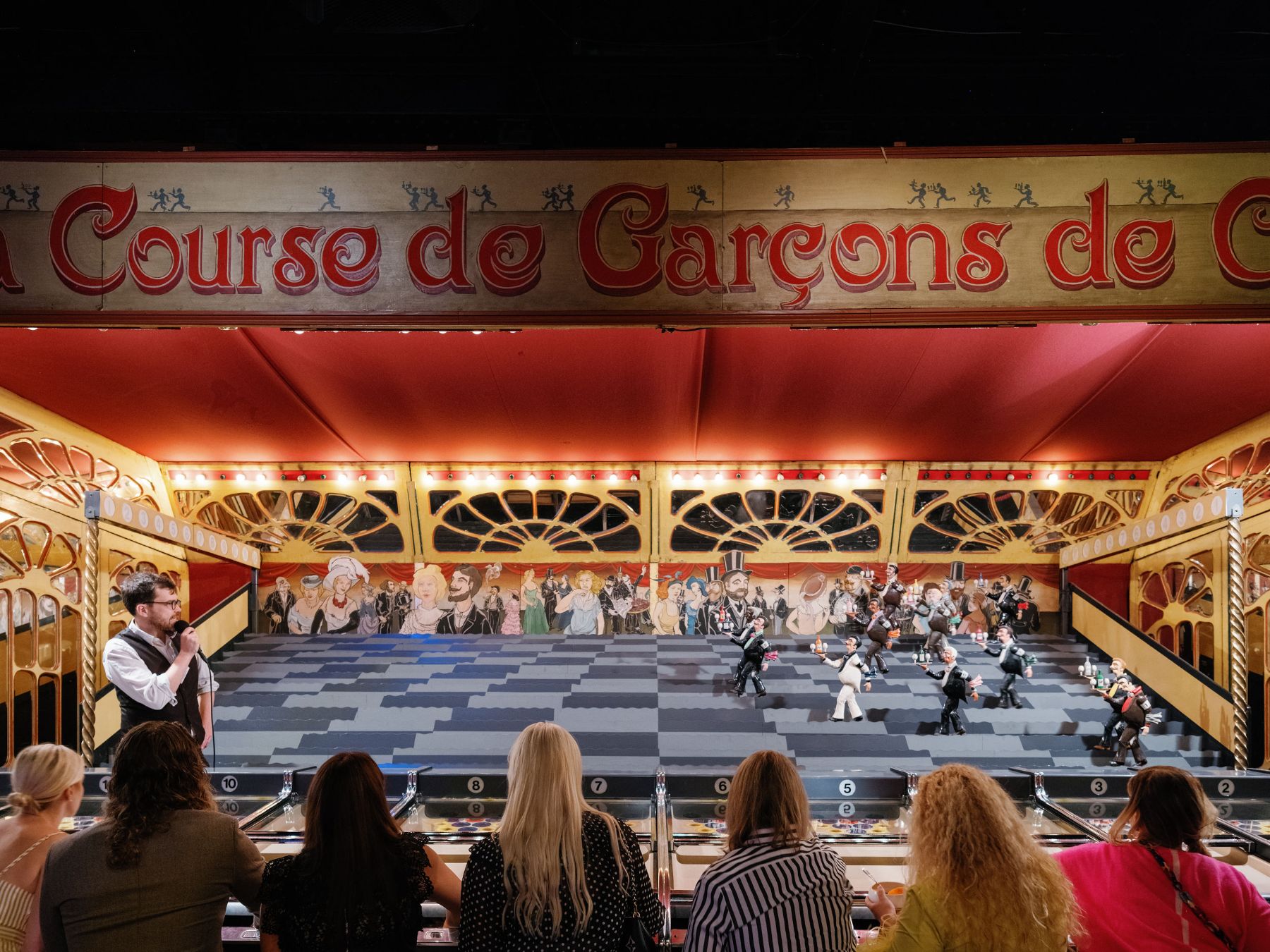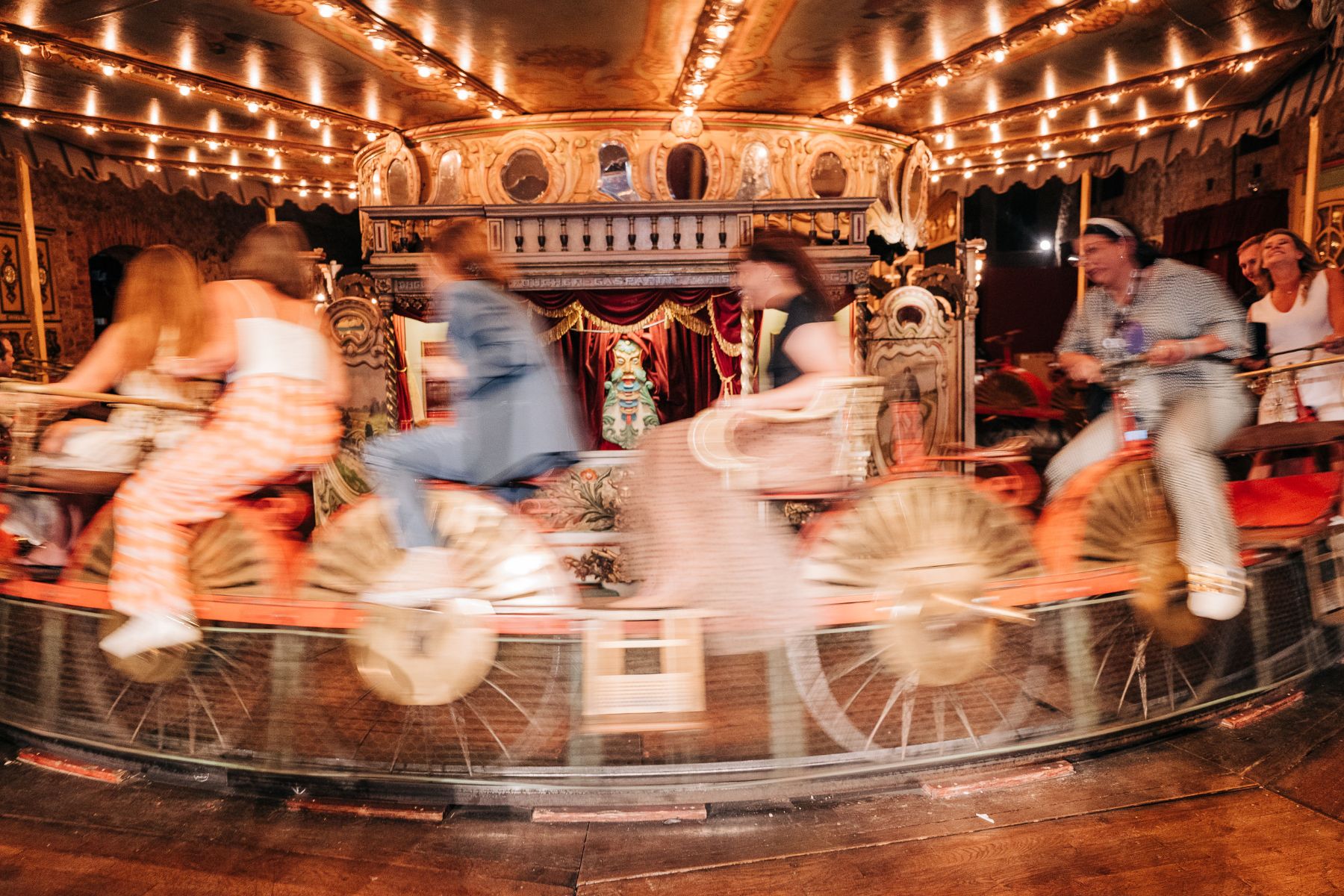 Our First of Two Galas
At InterContinental Paris Le Grand, we invited our group into the Salon Opera. It's one of the most renowned ballrooms in Paris, with its opulent statues, rich gilding, a gorgeous chandelier, and parade of mirrors! This ballroom was designed by Charles Garnier (who also designed the Opera Garnier). It was listed as a National Heritage Site in 1970.
In the sun-drenched salon outside the ballroom, guests found their seating assignments on paper perfume bottles. The escort card platform was custom-built to seamlessly fit within the existing Intercontinental Grand Hotel decor. Even the hotel guests got to enjoy it! TPD Design House created gold metallic stands to hold up the sculptural embossed high-fashion-inspired cards before guests took their seats.
Then, the ballroom. Oh, the ballroom! When dining in one of the most grand ballrooms in Paris, the event design must enhance the space…never take away from it! And that is exactly what the night's design accomplished. Carefully curated embellishments, including a soft color palette and gilded candlelight, with a play of illusions. The menu designed by TPD Design House was a mirror that reflected something that it's not (and that was true for the food too)!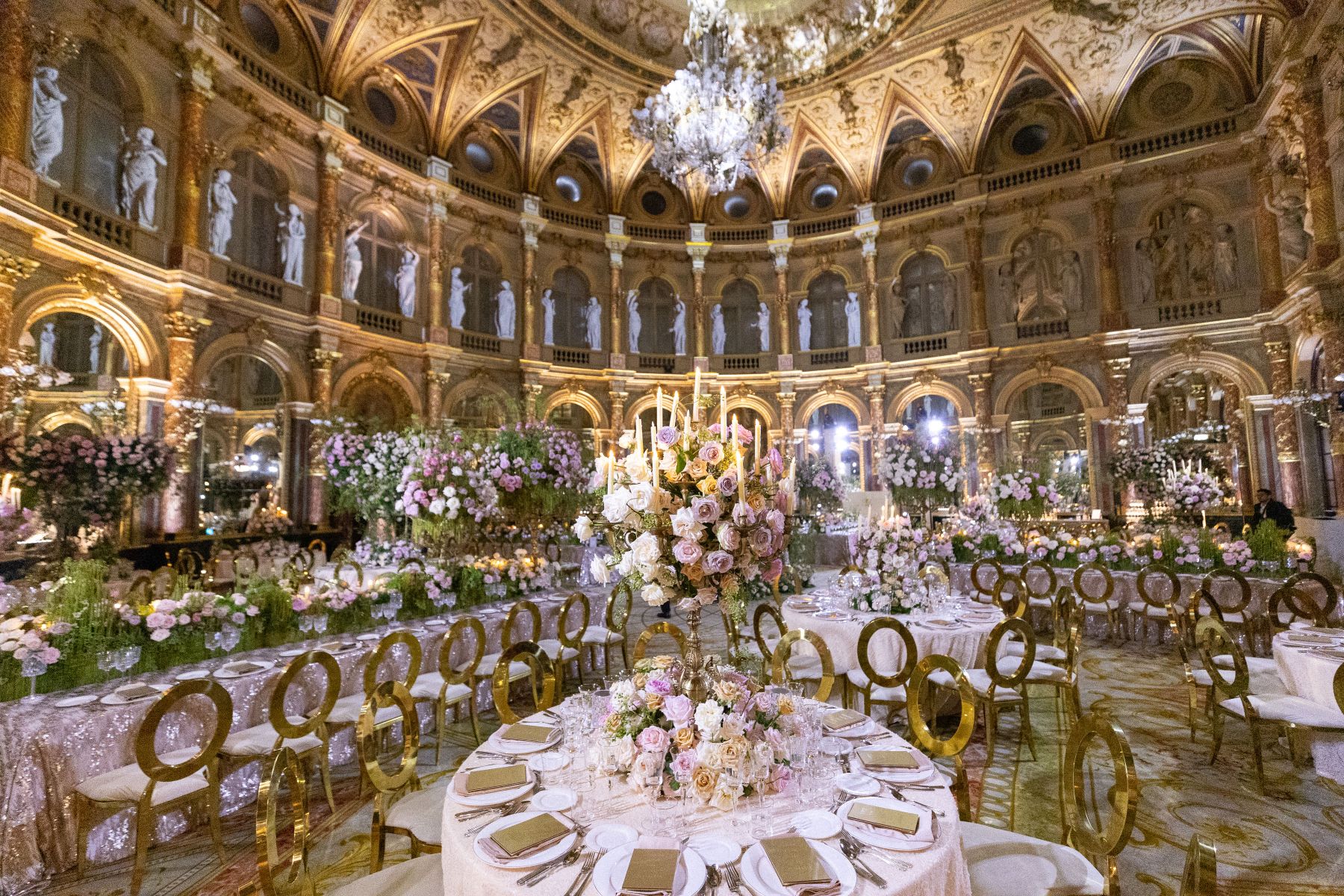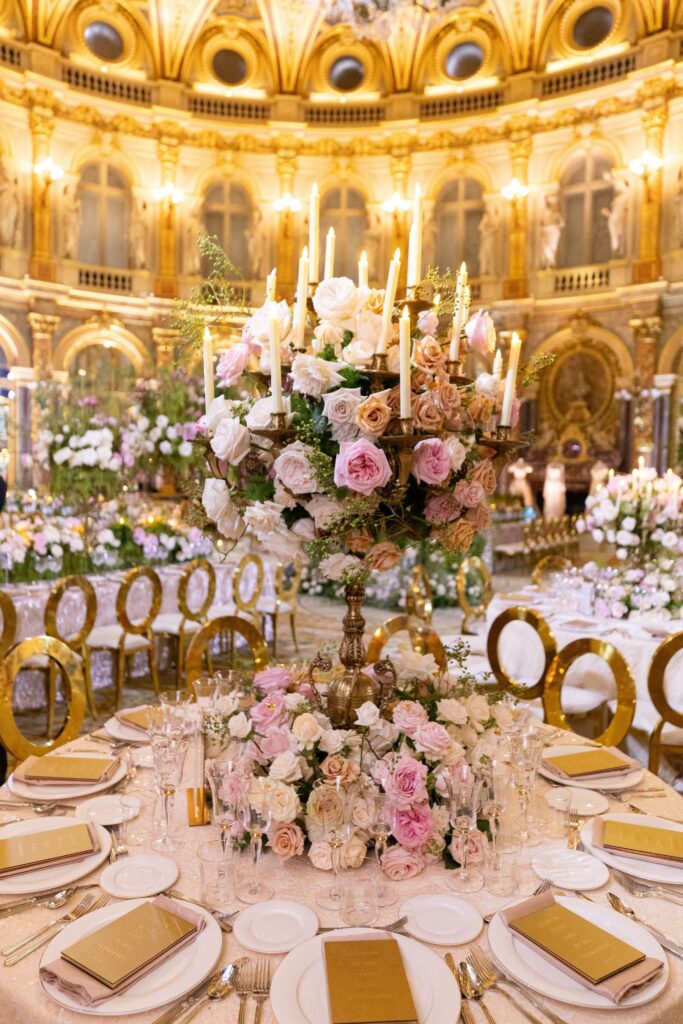 The Show
During dinner, guests enjoyed some very special entertainment. Video Mapping Event created a mesmerizing video mapping show to wow the crowd. Visions danced across the walls and ornate ceiling while RêvARTe Entertainment and Inspiration Live Music performers and singers dazzled us with their vocal talents. But that wasn't all. Another Engage! first – we were invited to experience a private Haute Couture fashion show by the one and only, Elie Saab. Elie Saab presented their most recent collection, Haute Couture Autumn Winter 2023-24, showcasing regal imagination, legends, and tales in a glamour of yore. The show evoked the opulence and grandeur of Paris – the dresses nod to the artistry of the world's fashion capital. And every single gown was a show-stopper. They truly took our breath away! This certainly took on a new meaning of dinner and a show!
After an awe-inspiring fashion show, more music and dance delighted our attendees. From an opera singer to a DJ battle, guests celebrated until the early morning hours…before they rallied for our final day in Paris!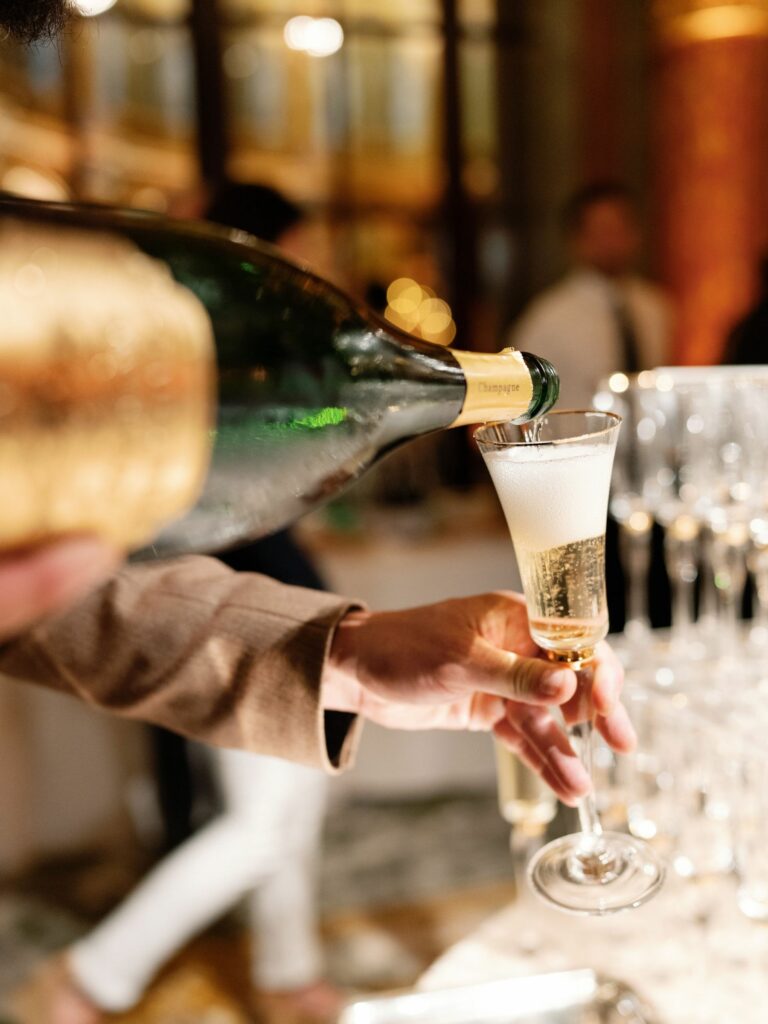 Paris Group Activities + Experiences
For those that got sleep, guests awoke to participate in iconic Paris group activities and VIP experiences. Curated by Guides Tourisme Services, attendees selected from 12 activities to begin their day and get out into the city. The options included a listen, look, and draw at Musée D'Orsay, an Emily in Paris walking tour, a guided tour of L'Opéra Garnier, a visit to Galerie Dior, food tasting with a French food critic, a French bakery experience, baking baguettes, partaking in an oenology lesson, and learning the secrets to French perfume with Guerlain Perfume. From fashion to food, art, flowers, and scents, our attendees fully immersed themselves in the Parisian way of life!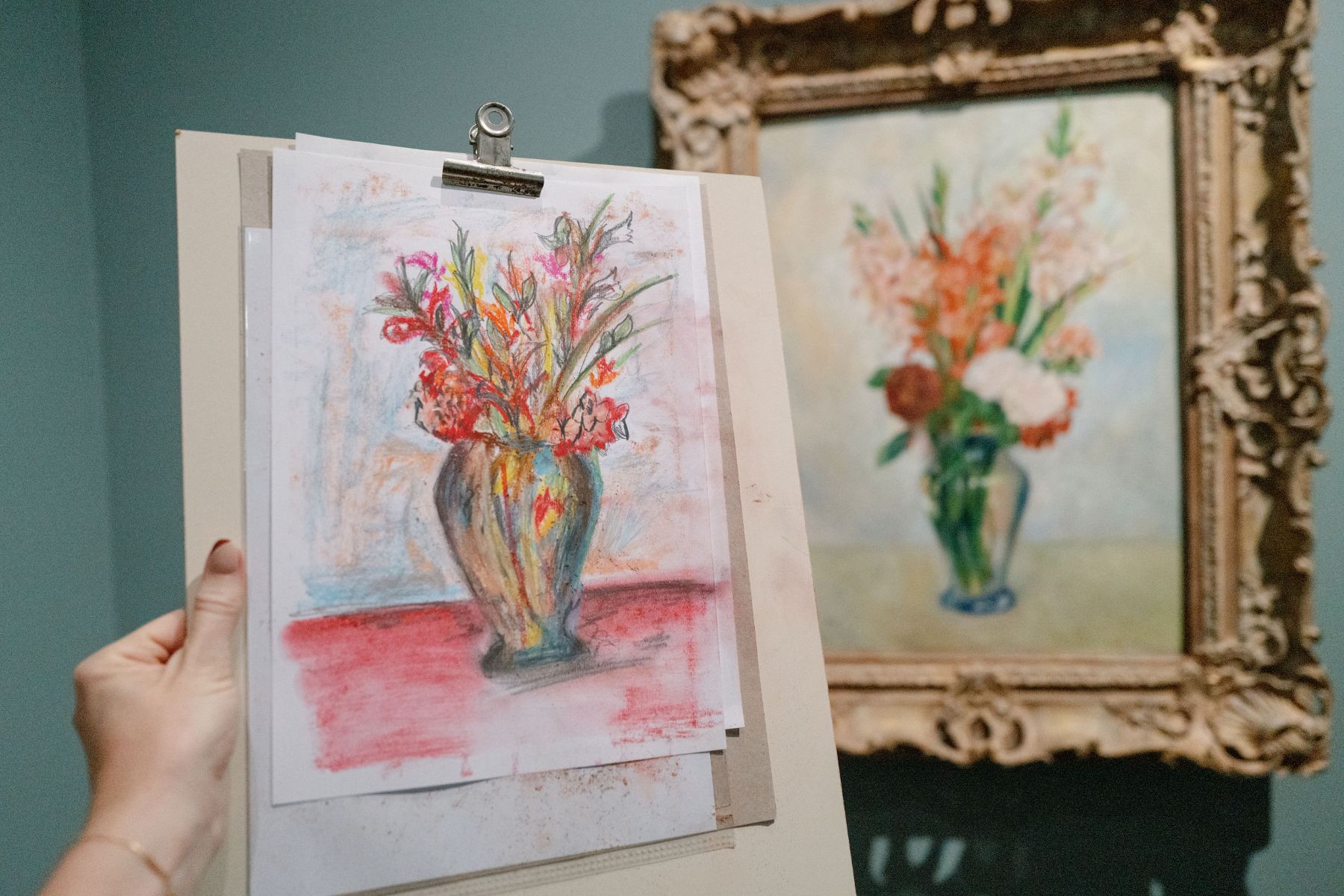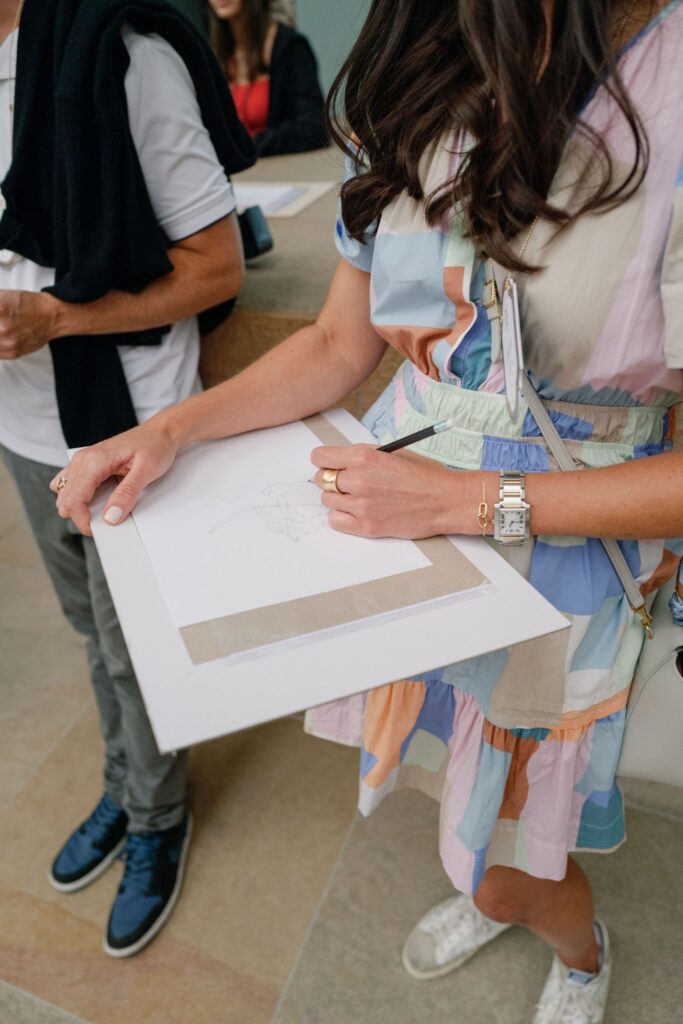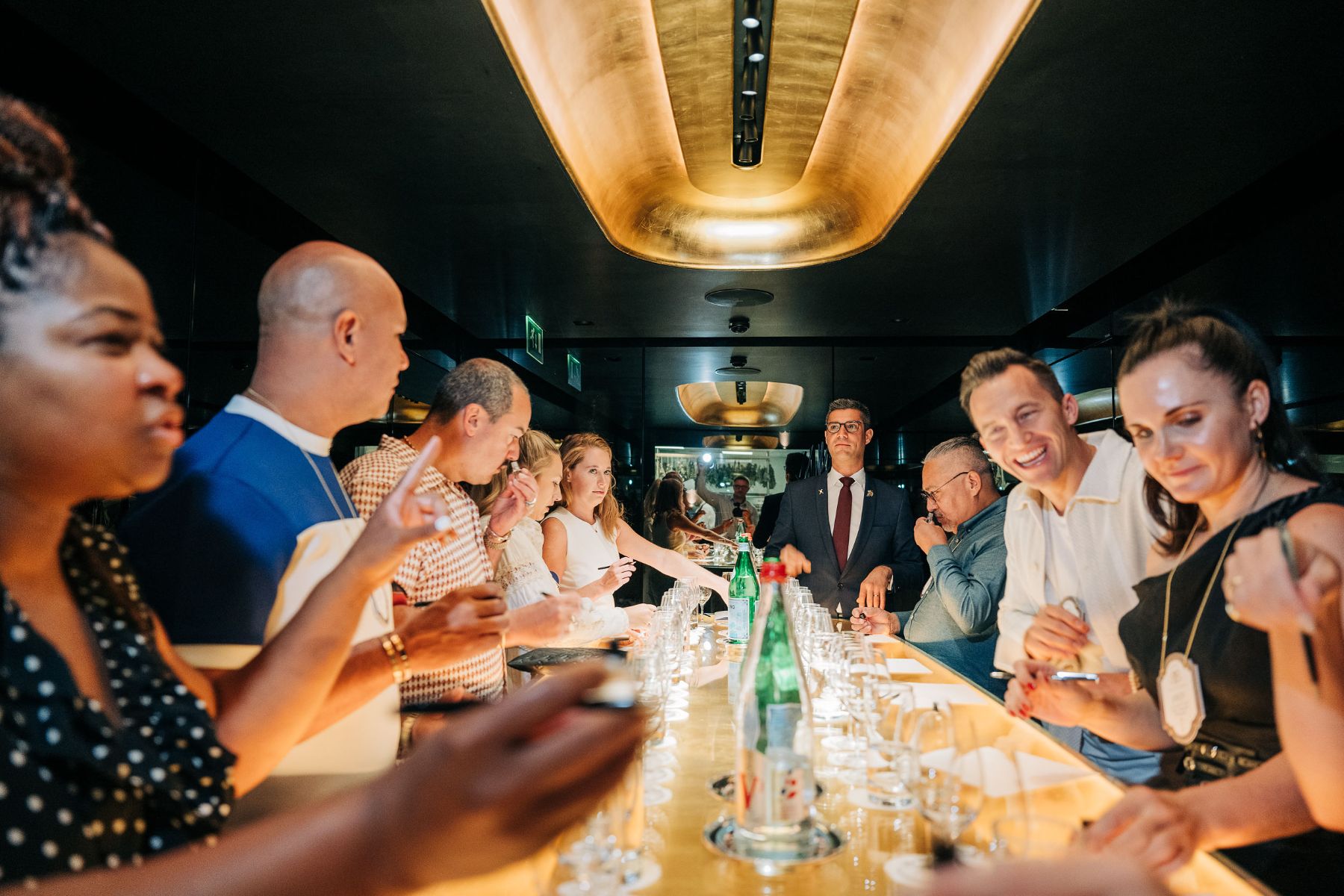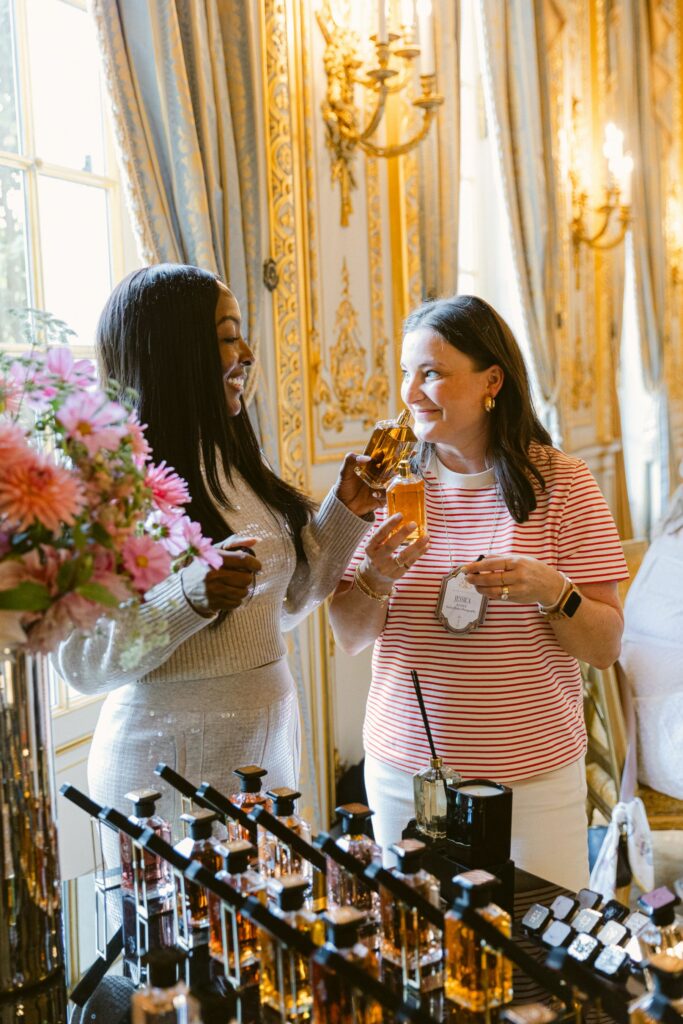 Then it was off to two fabulous three-course lunches at our host hotels for more networking, pastries, and French faire!
Black-Tie Château de Vaux-le-Vicomte Gala
After a restful afternoon, our group gathered in their royal best for our finale night celebration. And it was a celebration worthy of the kings and queens throughout history who celebrated at our very special venue too. Château de Vaux-le-Vicomte opened its doors once more for our guests to walk the manicured gardens, dine among the history books, and dance under the stars (and fireworks and drone shows too).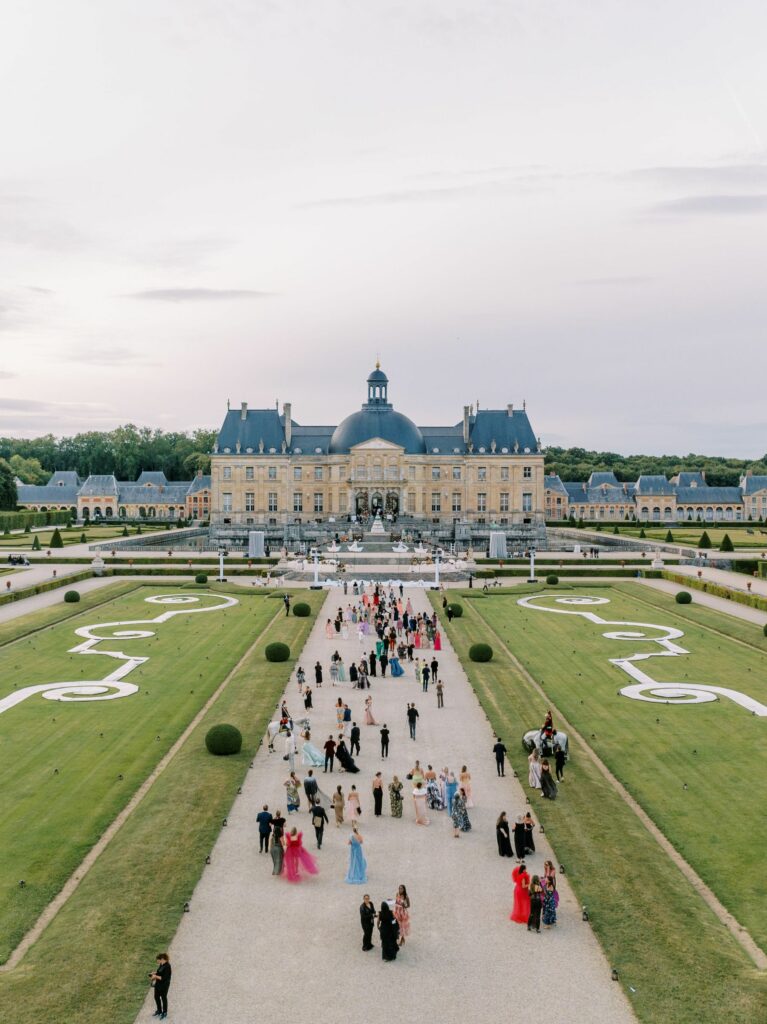 Roni Floral Design wanted to create an atmosphere that flowed with the different spaces and places on property. Leaning into the opulent design of the chateau, everything was over-the-top (naturally), yet allowed the beauty around us to shine through.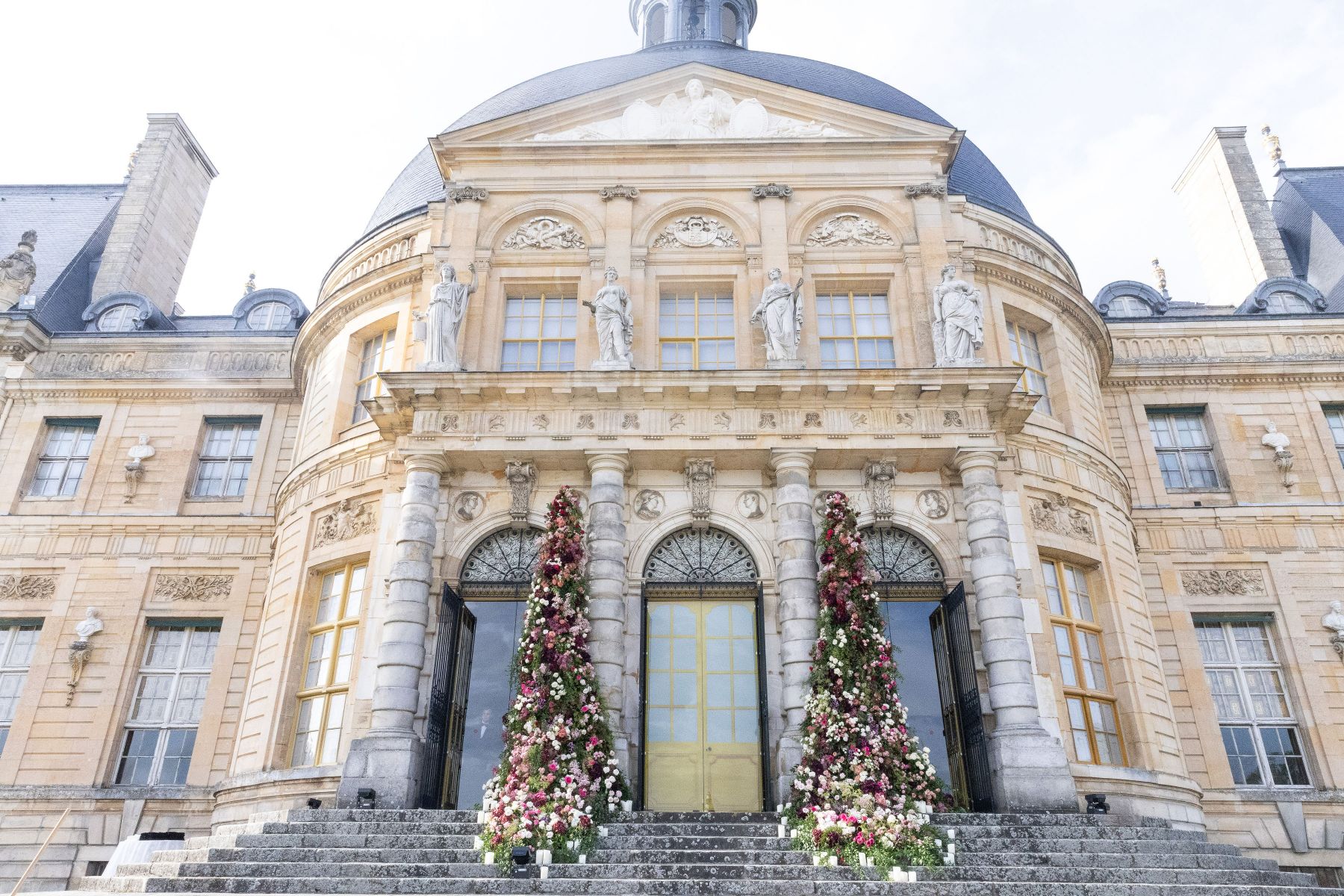 As not only the dessert later in the evening, but part of the fanciful decor, world-renowned pastry artist, Bastien Blanc Tailleur created a French garden-style cake. It was a delicious tribute to André Le Nôtre (the chateau's architect and designer). More than 1,000 working hours went into creating the masterpiece. It even included motifs that were reminiscent of the boxwood parterres of the Château de Vaux-le-Vicomte.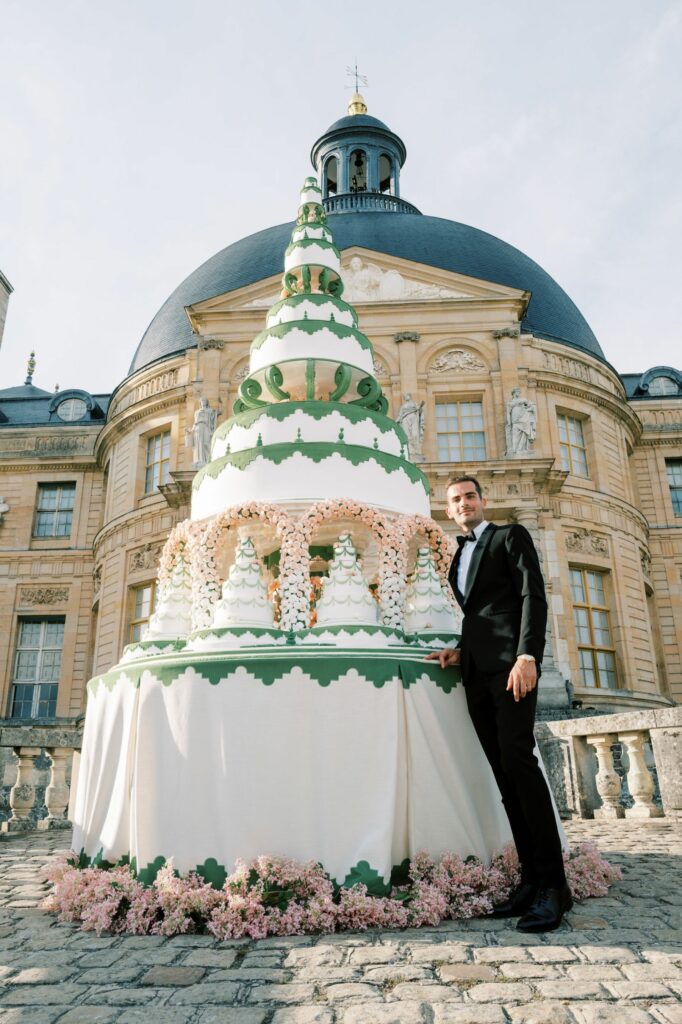 During cocktail hour, guests were entertained by magical performances from Gabriele Rizzi Lab…including flying performers to welcome us to the chateau entrance (certainly a first for us!).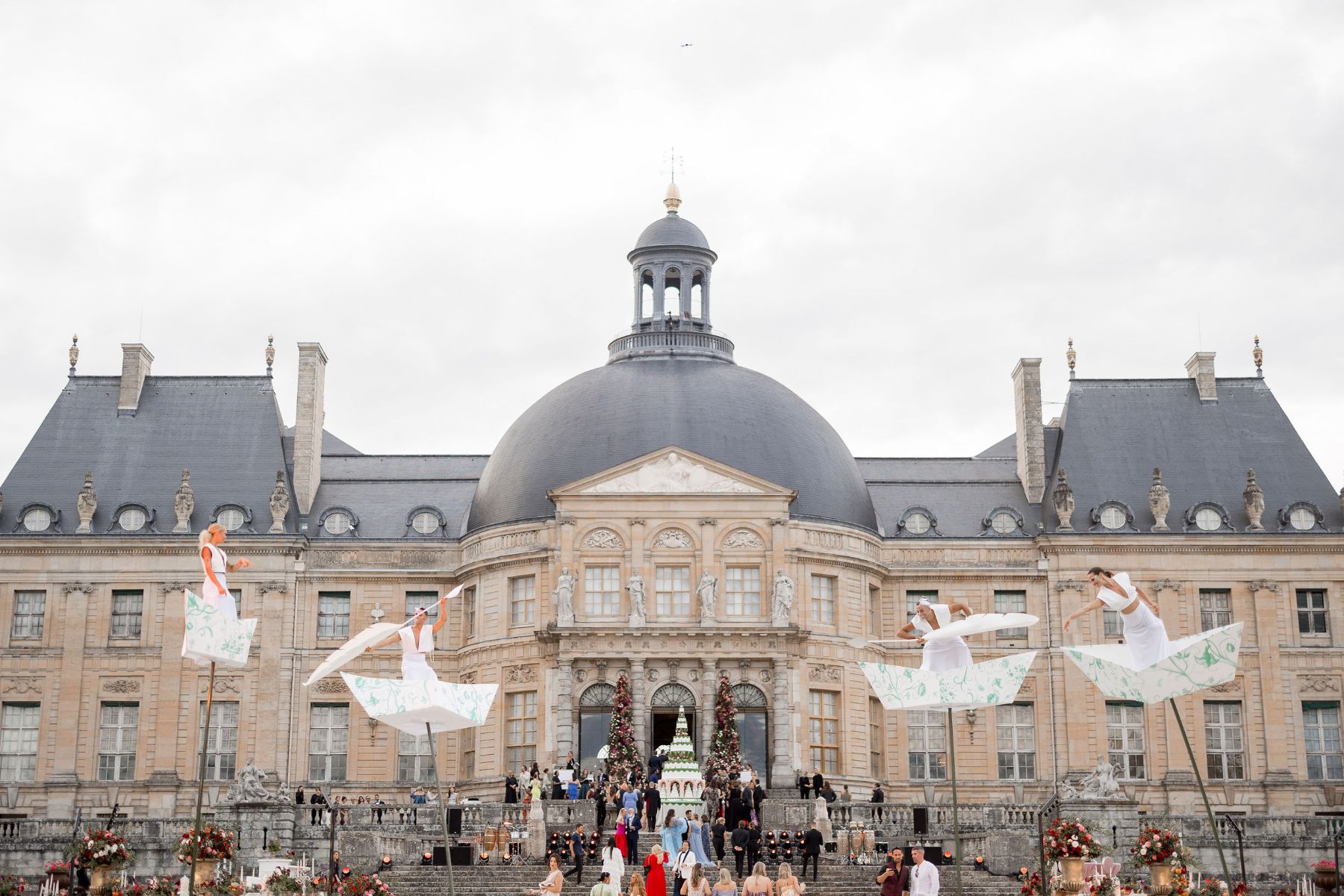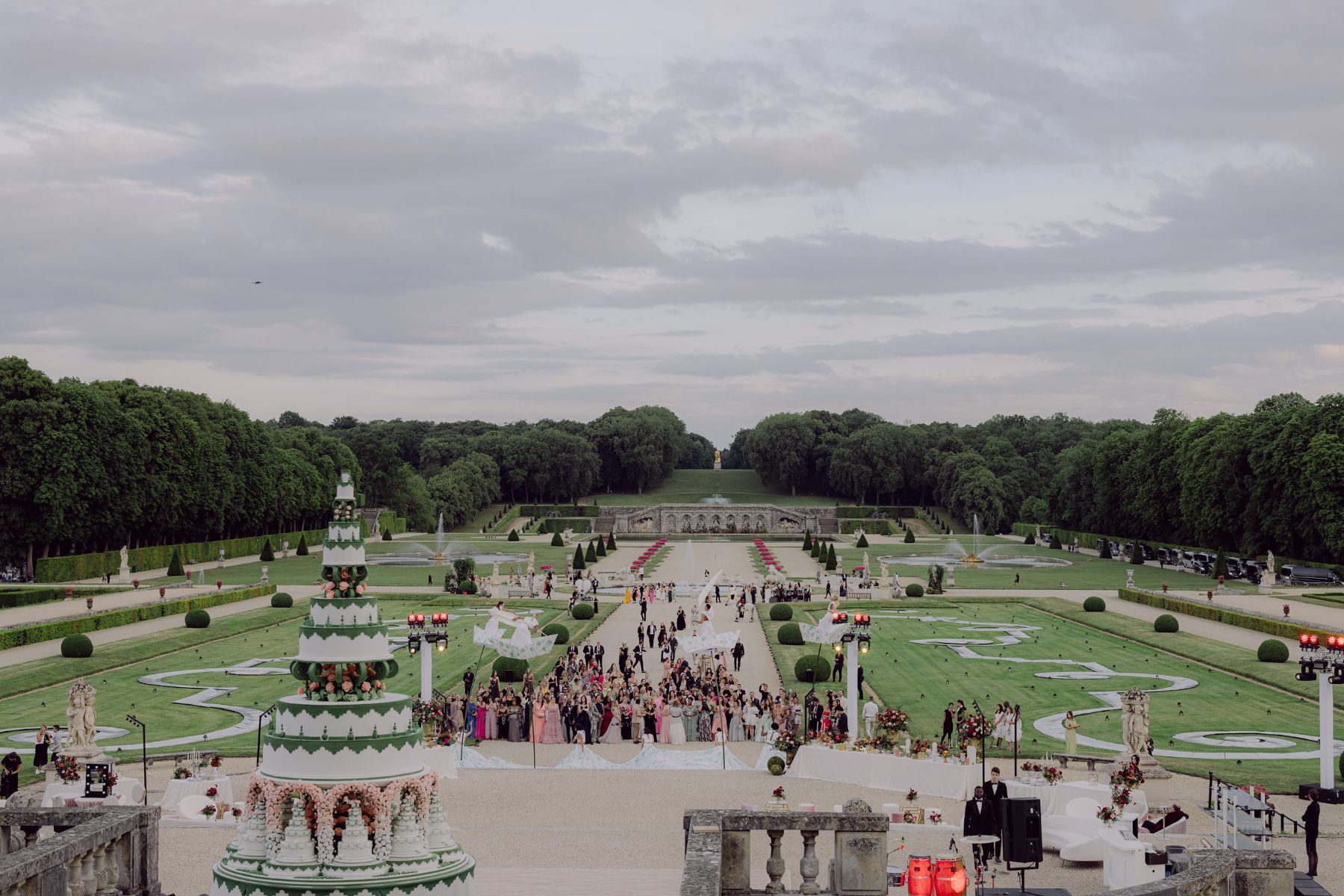 Dinner took place in four rooms. Each room was uniquely decorated to reflect the space (think centerpieces complete with flying books in the Library Room). The design was a union of masculinity and femininity that maintained the character and beauty of the spaces.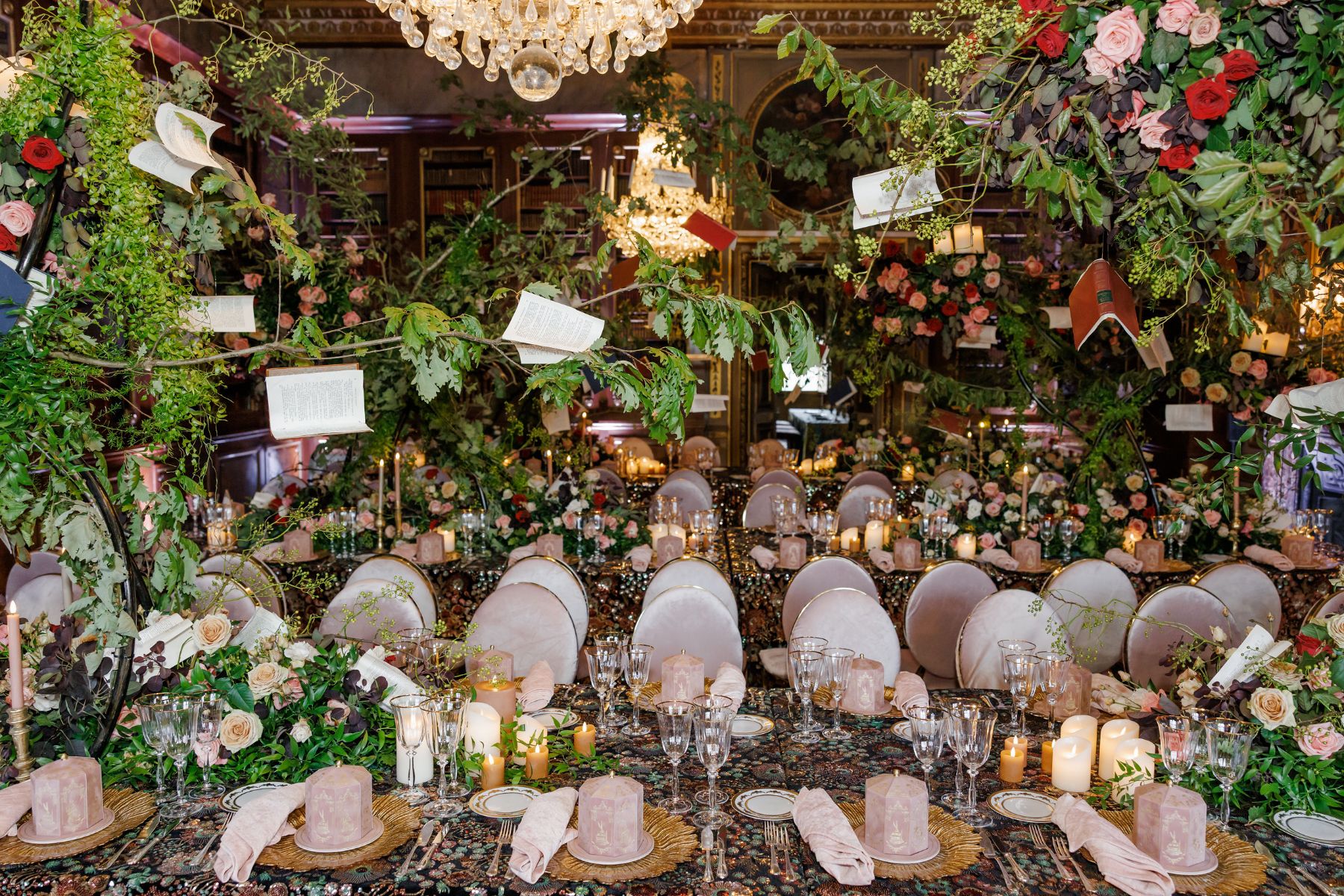 And the Dinner…
And dinner was something to write home about too! We were honored to have our gala meal orchestrated by world-renowned chef Christian Lesquer of 3 Michelin Star Restaurant Le Cinq at the Four Seasons George V Paris. We're still dreaming of those courses! (More on that later.)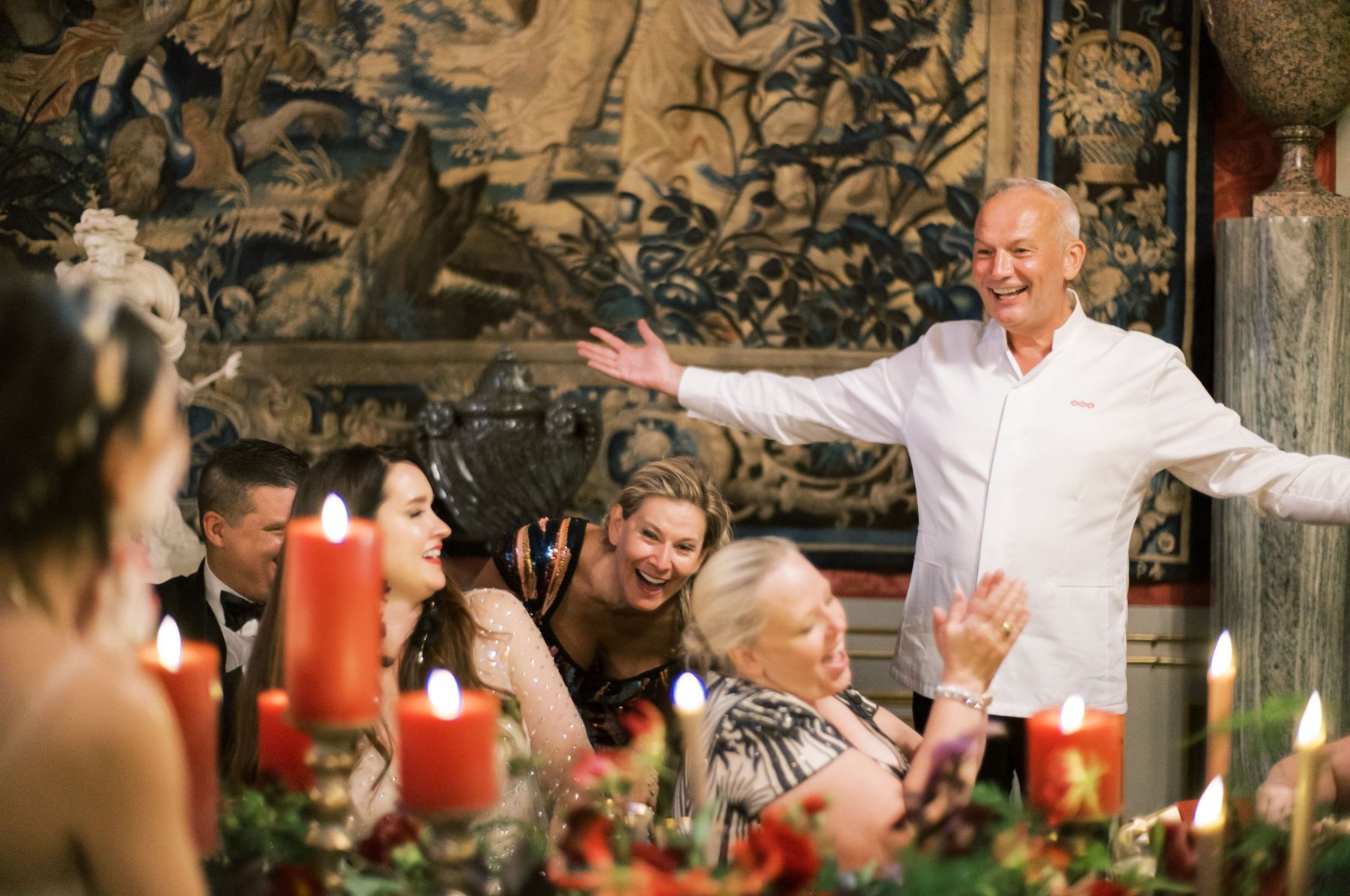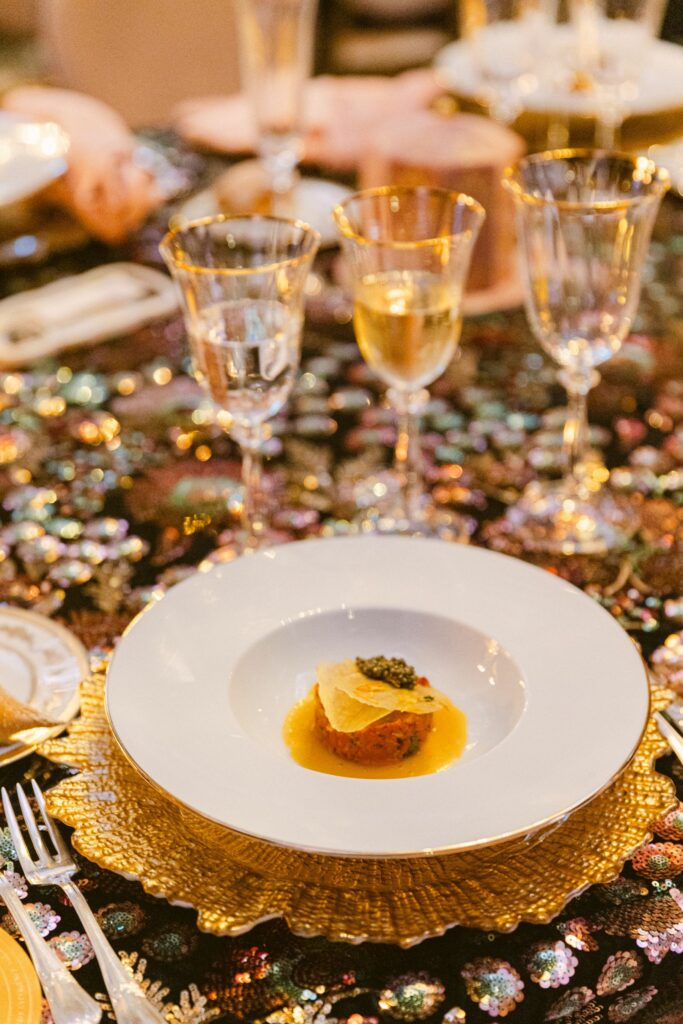 During and after dinner, more entertainment surprised and delighted the group. Inspiration Live Music got guests to their feet with dancers and musicians. They serenaded our attendees in the different spaces as small performances went on at every turn. Their vocal talents were nothing short of mesmerizing. Guests looked on from their seats (and eventually took to standing on tables to join in the fun).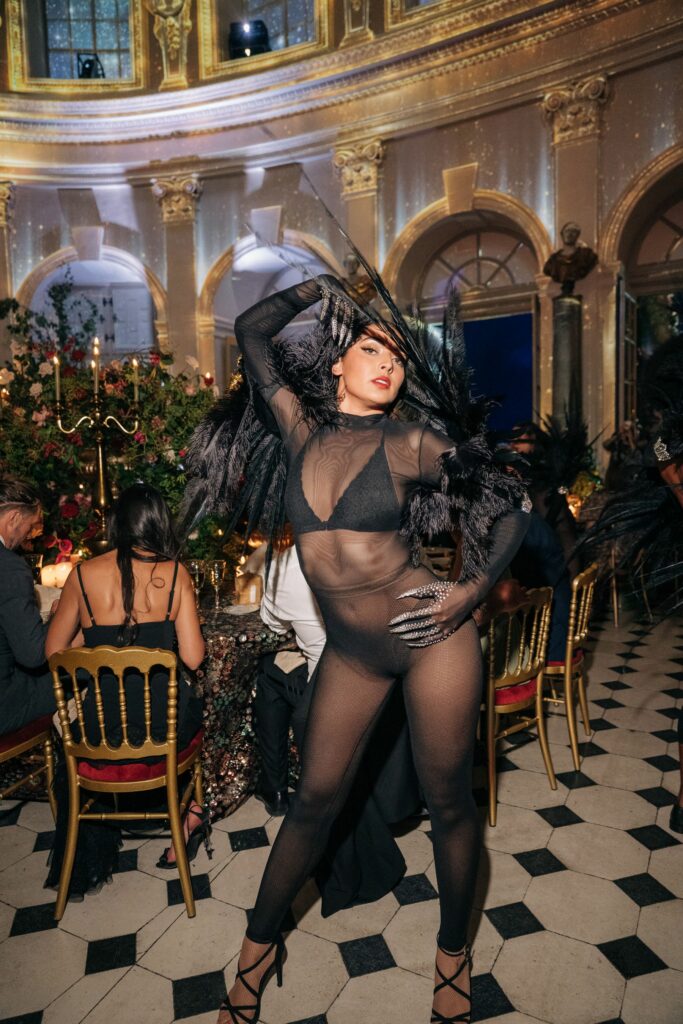 After dinner, guests were ushered outside for dessert under the stars. France's reputation for pastry perfection did not disappoint!
Meanwhile, the dance floor was full thanks to the talents of Inspiration Live Music (who made after-party magic with their acts, musicians and DJ!). Behind the show? Another show! Video mapping (by our friends at BS Technology) was in full effect and even a tattoo station at the ready to get guests camera-ready.
Then a fireworks and drone show by Grand Final Fireworks and Magic Drone to end the evening with one last surprise! A truly perfect night.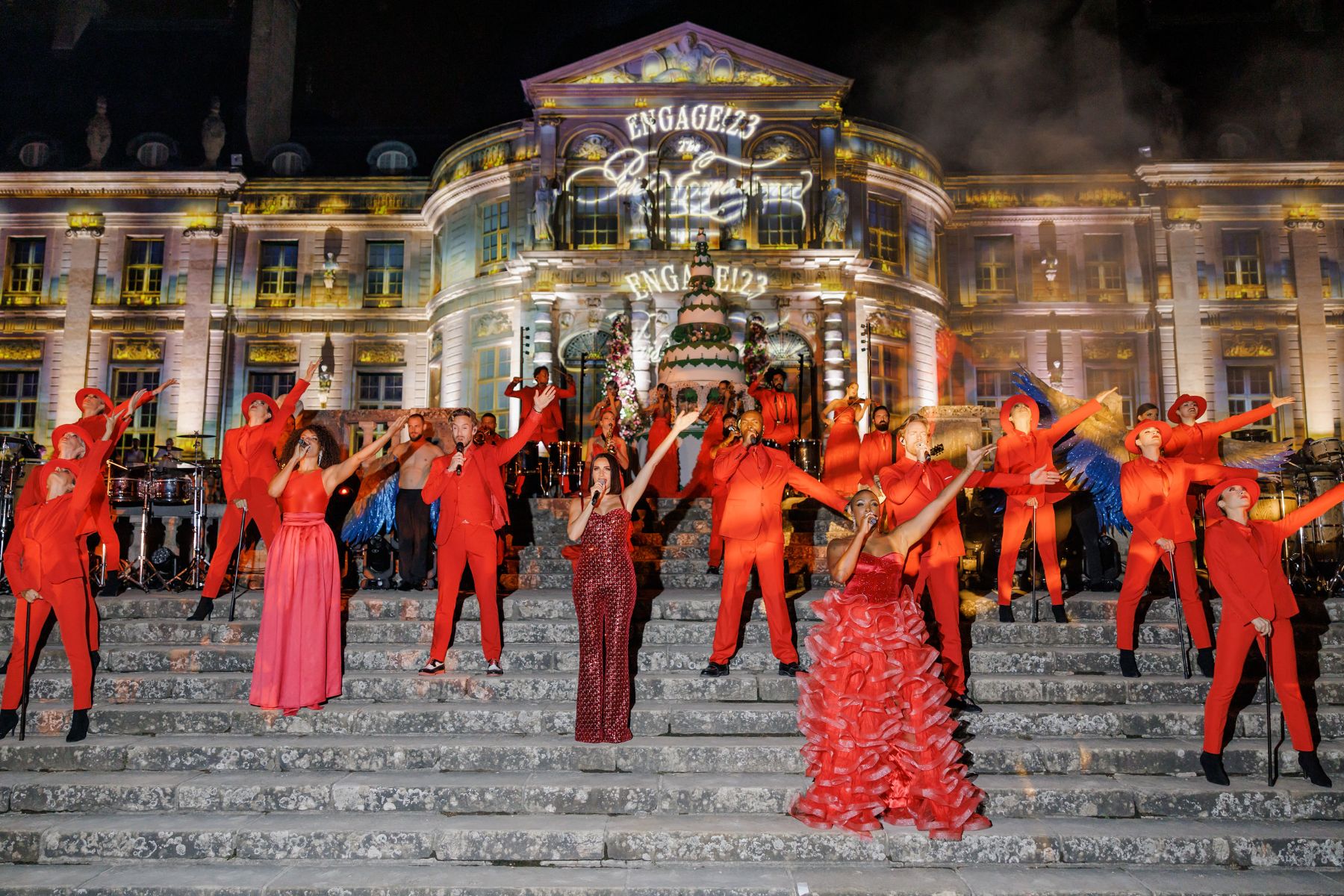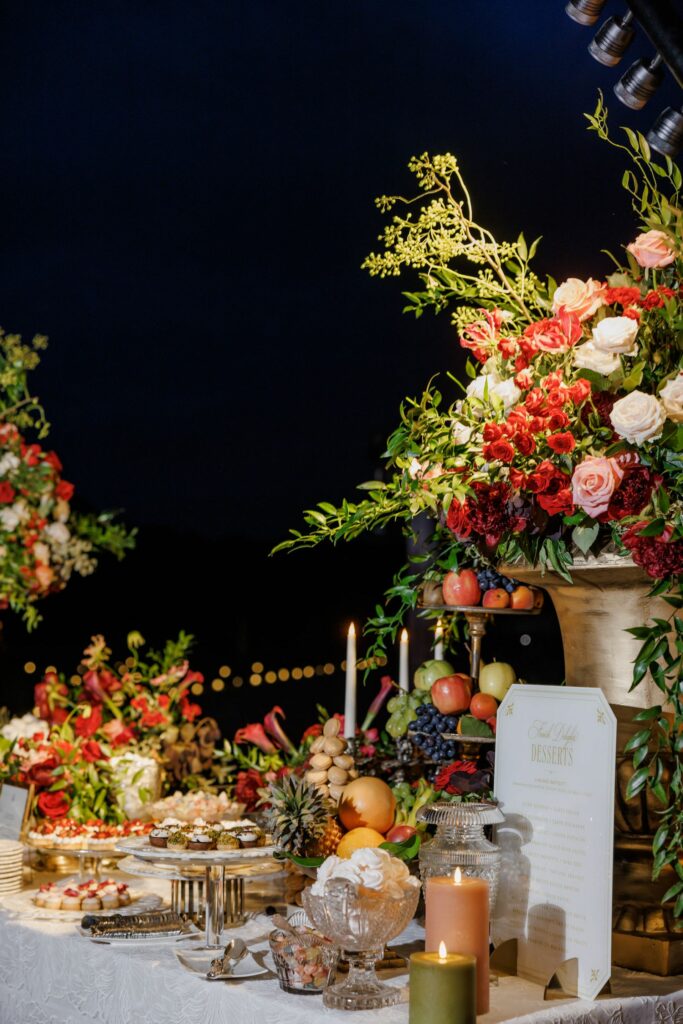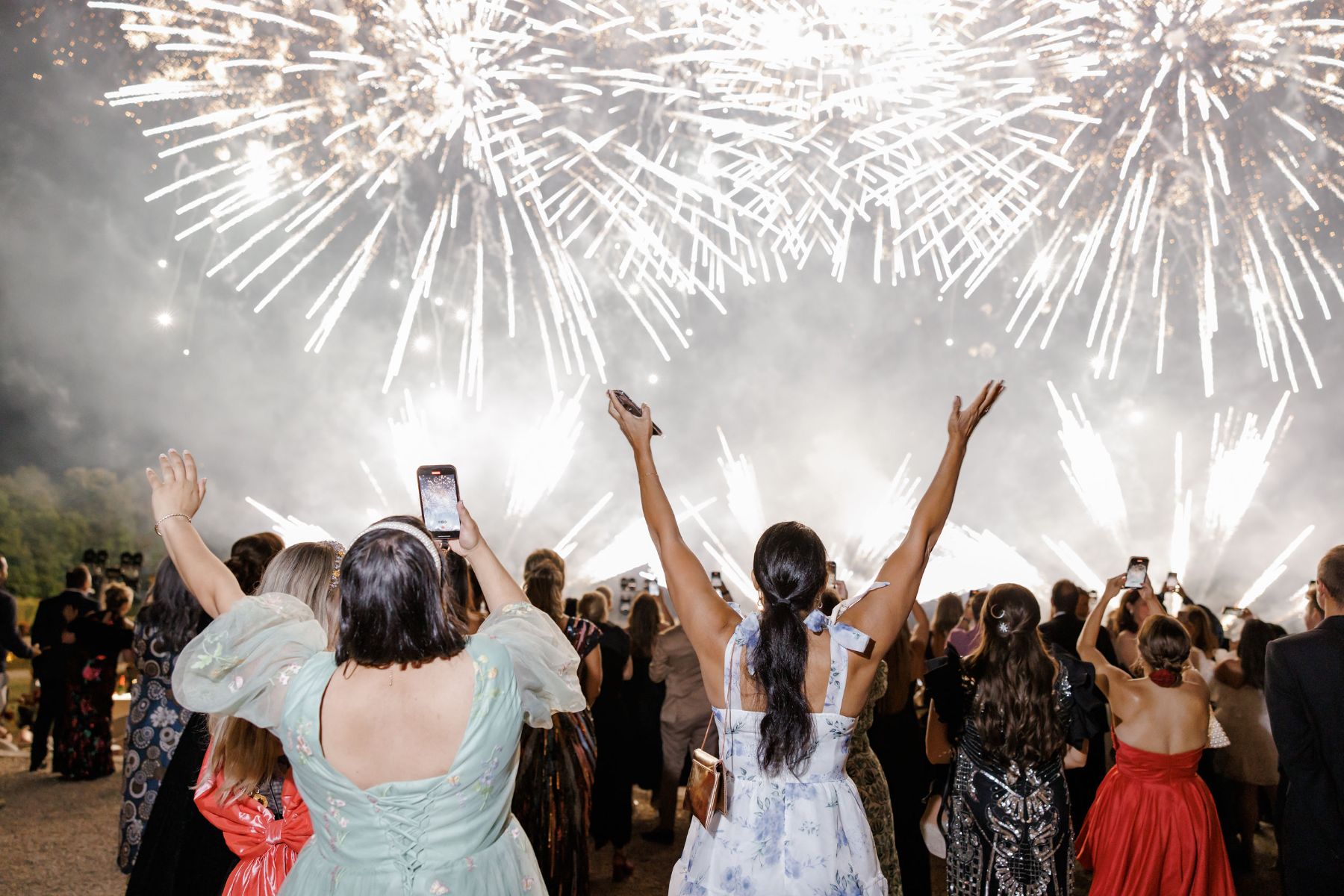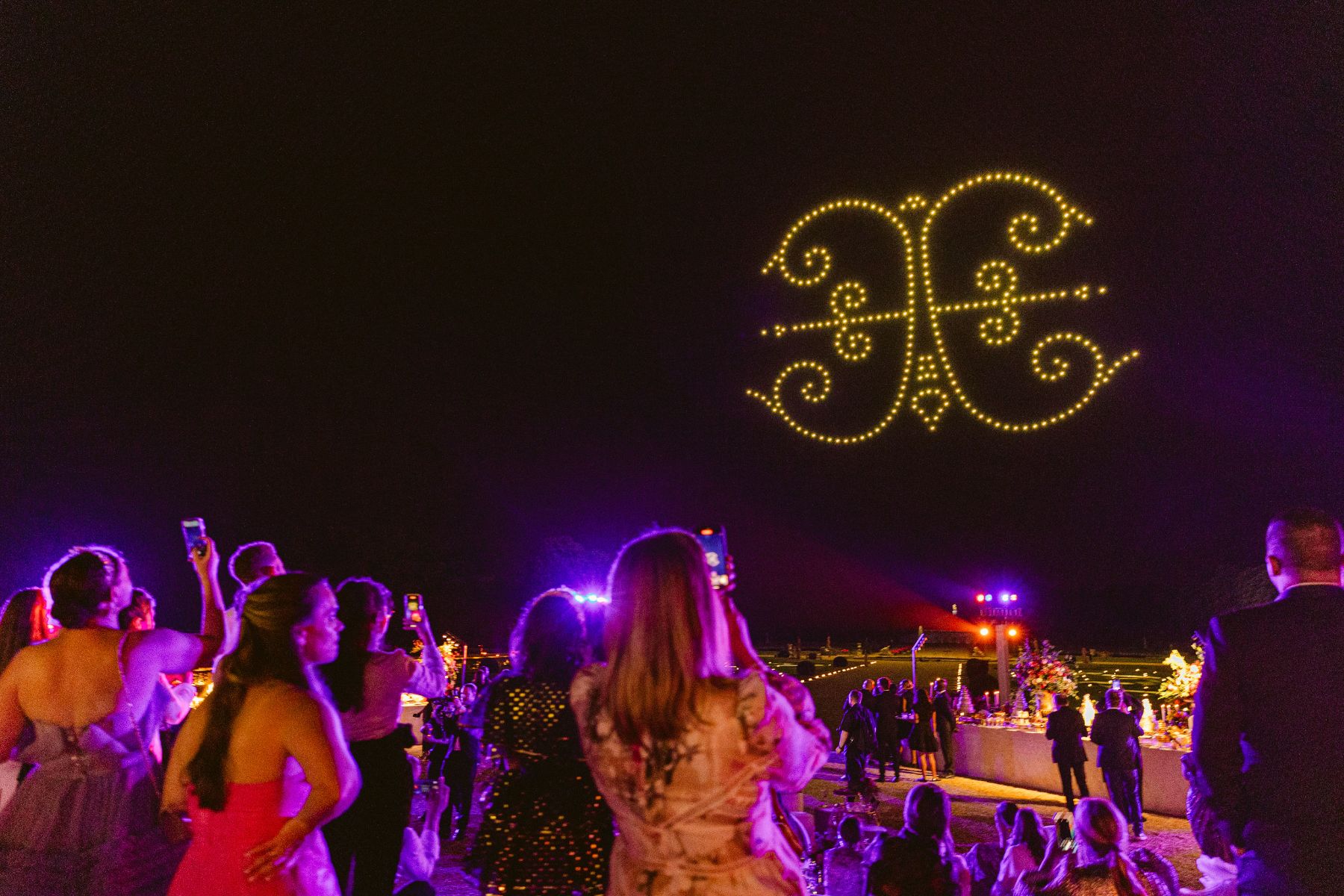 A Wrap on Engage!23 The Paris Experience
We'll be sharing much more from our evening at Château de Vaux-le-Vicomte soon. Until then, let's just say it was a night no one in attendance will soon forget!
And that, dear friends, is a wrap on Engage!23 The Paris Experience! Hearts full, closets more full, and memories locked for life. Paris was everything we dreamed it would be. And so much more! We just love what our industry represents and how we celebrate love around the globe. Building bridges worldwide has become one of our proudest missions of Engage! and Paris was the perfect experience of that. Thank you to everyone who helped make this event as special as it was. Thank you to all our friends, new and old, around the world!
To see more photos (and video) from this Engage!, check out the full gallery here.